Architect Vinu Daniel of Wallmakers is focused primarily on sustainability. Using mainly mud blocks, rammed earth and burnt bricks he designs spaces in their raw, natural state. He met the legendary Laurie Baker while studying architecture. "Baker made me understand that a building can co-exist with nature and be built with minimal wastage." For awhile he worked on post-tsunami houses while in Auroville.
"My first structure turned out to be a compound wall and we continued to build more compound walls as we were short of work. This earned us the name Wallmakers, as a sarcastic reference to our work!" says Daniel in jest.
Daniel decided to build his own residence to showcase his design. The residence, with its double-storied mud vault, "brought only clients looking for building mud houses." His first real break happened when he built the Mattancherry Church in Fort Kochi in 2012. In the Mattancherry Church project Daniel used compressed, stabilized earth blocks and sweeping expansive mud vaults and arches. "The ancient Egyptian technique of making arches and vaults, referred to as the Nubian technology, was used here."
Daniel's structures largely opt for rammed earth as the foundation, with a ferrocement shell featured as the roof.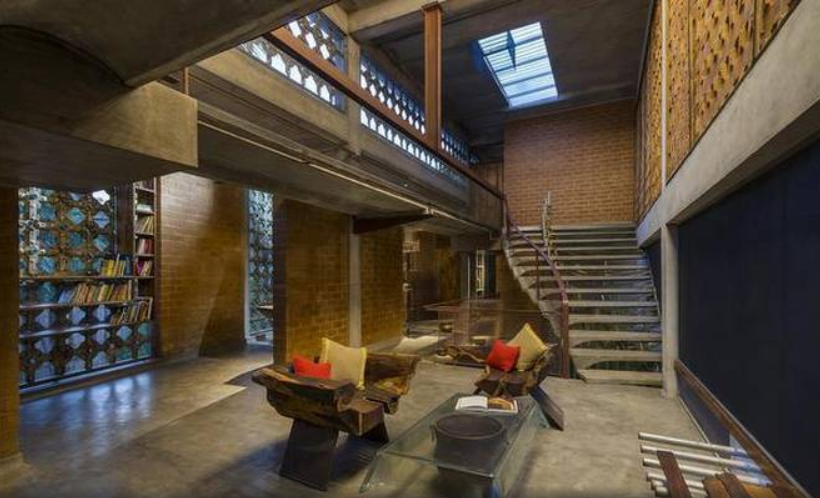 At the Chirath Residence in Pala, Daniel used shuttered debris walls which are patented by him. "Construction debris is combined with mud excavated from the site and mixed with 8 per cent cement to make these walls. In rammed earth, only 30 per cent of the fine sand can be used with the rest discarded, but in shuttering, 90 per cent of the mud is used and the remaining used for filling the plinth", explains Daniel.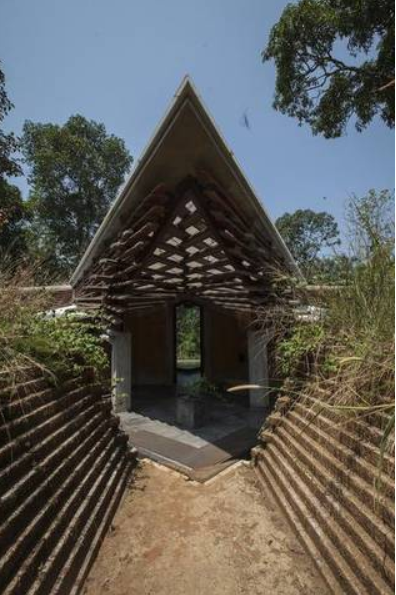 The cantilevered triangular roof stands out where the angled sides appear as wings, the Ferro cement slabs stacked to create a broken patterned roof through which natural light filters in.
The entrance is equally dramatic in its combination of bricks, stone and grey oxide that culminate in a hexagon-shaped portico covering an uncommonly tall front double door made from angled strips of waste wood. A sheer glass wall encloses the living area, connecting the interiors visually to the green wilderness that lies beyond. Further drama prevails through the play of light and shadow filtering in from the vents in the Ferro cement roof.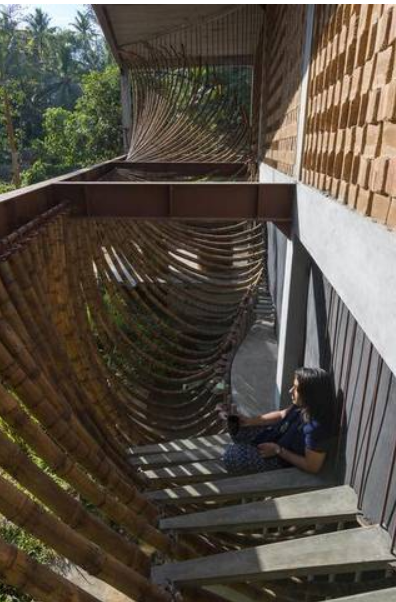 In the recently finished IHA Residence in Thiruvananthapauram, Daniel combines serenity, warmth and wild adventure. "The site had issues of water logging and we addressed this first by harnessing the water in the form of a pond on the lowest end of the site." The residence uses bamboo as the chief material, where a continuous string of bamboo frames the front elevation, supporting the staircase that hangs from it, creating a stunning semi-open area.
Daniel is currently working on perfecting newer techniques of sustainable construction, one of which is experimenting with a 13 cm brick panel built on corrugated sheet "which is later removed." Another involves brick panels and wattle-daub combined with waste PET bottles.
His chief focus is on aesthetics "as it is equally important as the strength. Both cannot be compromised."
You can read the original article at www.thehindu.com