I recently heard from Clive Riddington, who has been developing an ecological resort on an island named 'Gili Trawangan' which now is one of Indonesia's top destinations for tourism outside of Bali. The project is a collaboration between him, as a contractor, and his wife, Rina Asmi's, re-claimed timber business 'The Old Tree Company' and a group of ecologically minded investors, 'Asia Prospects'.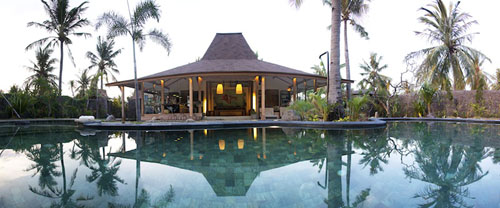 This island is unique in the fact that it is only 7 km walk around its perimeter, has a population of approximately 2000 and does not allow any motorized transport; the only mode of transport is by horse and cart or bicycle.
The Bhuvana resorts concept is a beach front resort for travelers and tourists alike to relax in traditional structures with all the luxuries of a hotel. They strive to be as ecologically friendly as possible. All timbers are re-claimed from old houses, boats and bridges. All septic systems are 'bio septic tanks,' recycling the water to the gardens.  Each property has its own in-ground rainwater tanks. Pools are sea water fitted with 'Ozone ultraviolet' systems to reduce the use of chemicals. And all of the earthbag walls are filled with the earth removed from the pools and foundations.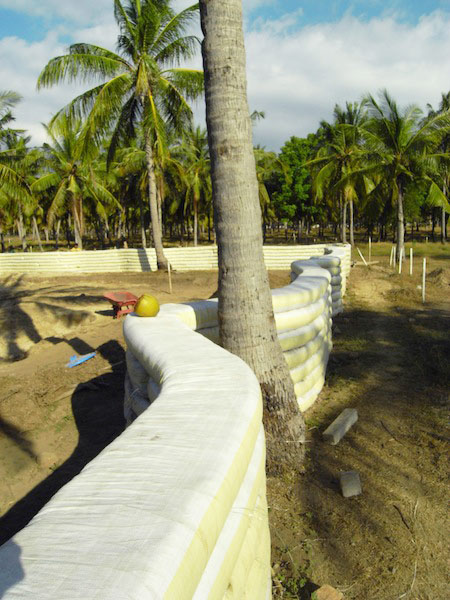 The project has employed over 100 local builders, craftsmen and traditional wood carvers.  All materials arrive by boat and are transported by horses and carts to the site. Due to the lack of water they use as much collected rain water as possible. The project began a couple of months ago and Clive predicts that it will take another two years to complete.