Framing the Barn / Garage / Mudroom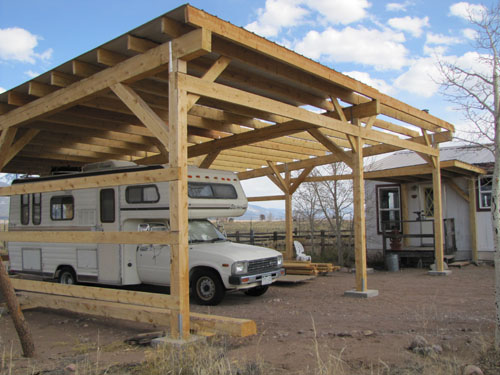 This large 30′ X 30′ structure rests entirely on a dozen primary concrete piers. All of the lumber is rough-sawn from a local mill out of beetle killed wood. Most of the heavier timbers are Ponderosa pine, 6 X 6 posts and 6 X 10 beams, with 2 X 8 rafters. The beams are pinned into place with half inch rebar and then held firmly there with metal strapping. The posts are connected to the concrete piers with two pieces of angle iron embedded in the concrete and then screwed securely. I managed to hoist the 6 X 10 beams into place by myself using two ratcheted "come-alongs".
All of the horizontal 2 X 6 and 2 X 8 side beams are let into the posts so they are flush on the outside. These will support the vertical siding boards, as well as shelving, eventually. The roofing is both recycled and new metal that was laid over plastic sheeting to help keep condensation from forming on the underside. Each of the bays will have large clear skylights with the same rib pattern as the metal roofing. Stay tuned for the next phase of this project.