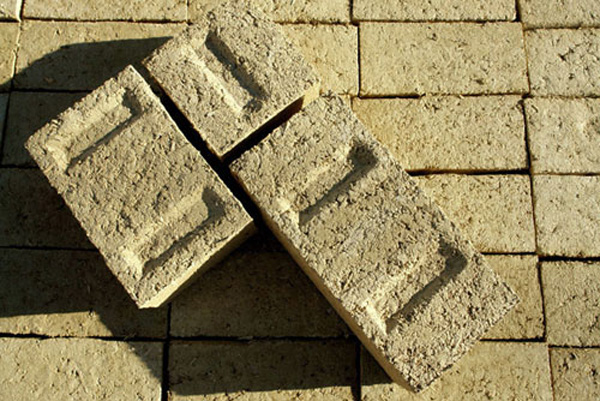 Why do we need greener options for making bricks? Here's a quote from IDSN MOW "1.3 trillion bricks are manufactured on earth each year, and at least 10% of which are made in coal-fired ovens, on a whole releasing 800 million tons of CO2 annually." In addition, clay bricks often destroy valuable topsoil. We need affordable, locally made, low tech eco bricks for the masses. Here is a list of leading eco-friendly green bricks.
Hempcrete bricks: An environmentally friendly alternative to concrete, 'hempcrete' is made of hemp, lime and water. The material is eco-friendly and carbon negative due to the amount of carbon dioxide stored during the growing and harvesting of the hemp. Hempcrete itself is also a carbon sink, with further carbon dioxide absorbed as the lime-based binder petrifies the hemp shiv over time. (See photo above.)
See more: Sourceable.net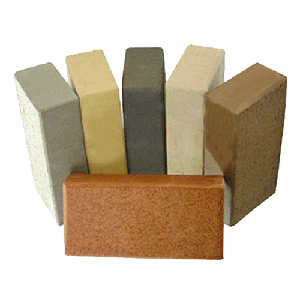 Recycled glass brick: BEEcycle is currently researching a solution for glass waste by breaking down glass bottles into sand which is then used to create eco-bricks for paving and construction. The GS100 machine is designed to turn glass waste into sand grade sizes. The glass is then used to replace normal sand in brick maing rendering the eco-bricks more eco-friendly with over 70% of it being waste material. At the same time, the eco-brick looks, feels and functionality is exactly the same as conventional bricks.
See more at BEEcycle
Microbial-induced eco bricks: Ginger Krieg Dosier has won the Metropolis Next Generation Design Prize for her design of "green" bricks using sand, common bacteria, calcium chloride, and urea (compound found in urine), using a process called microbial-induced calcite precipitation.
See more at IDSN MOW
Update: Dosier is the winner of the 2013 Postcode Lottery Green Challenge. It sounds like her team is making good progress.
Timbercrete 'sandstone' brick: Being half the weight of clay or concrete, bricklayers can easily lay this sandstone brick with one hand yet they are laying three brick sizes in one, the dimensions being exactly one and a half times the length and two times the height of a standard clay brick also means it will take a third of the time and third of the mortar which means a third of the cost of labour to install. It looks phenomenal, you can nail it like timber, it has loadbearing support for double brick construction and has the highest fire rating that a masonry product can achieve.
See more at Timbercrete
Save Water Brick: The Save Water Brick design by Jin-young Yoon and Jeongwoong Kwon is comprised of a mixture of recycled plastic bottles and dried, rotting leaves molded into a traditional brick shape.
See more at: Sourceable.net
Recycled newspaper bricks: Two researchers from the Visvesvaraya National Institute of Technology in India (VNIT) have developed eco-friendly, energy efficient bricks made from recycled newspaper. Professors Rahul Ralegaonkar and Sachin Mandavgane hatched the idea to create these bricks after a trip to local paper mill two years ago. They learned at that 15% of newspaper cannot be recycled and goes to waste. This, combined with the fact that India suffers from a brick shortage of about 30%, inspired them to manufacture bricks from the paper mill waste.
See more at Green Buildings.com
Green Brick from CalStar: CalStar Products has introduced fly ash brick and fly ash paver masonry for the green building market. These products contain 40% post-industrial recycled material, use 90% less energy to manufacture and generate 90% less CO2 than traditional fired clay brick and pavers. They are available in eight colors and have been designed to be price competitive with traditional products of equivalent quality.
See more at Materialicious.com
Green Leaf Brick: 100% recycled scrap. Green Leaf Brick are not recycled brick, but are quality, newly manufactured red , burgundy, and brown brick made from select materials that are rescued from landfills, open pit mining byproducts, and plant refuse. No new lands are mined to secure materials for use in the manufacturing of Green Leaf Brick. Included in these carefully selected materials are processed sewage wastes, recycled iron oxides, recycled glass, mineral tailings, and other virgin ceramic scrap. All of the materials used in Green Leaf Brick can be classified as post consumer or post industrial (pre consumer).
See more at Green Leaf Brick.com
Modular bricks made from stone dust: The Eco-Friendly Modular Bricks produced by Decolores use abrasive mud obtained from the processing of ornamental stones as raw material.
See more at Decolores
Related:
Rice Hull Ash Bricks
Lime Stabilized Adobe Bricks
Recycled Brick Flooring
Low-fired Brick
Unusual Compressed Earth Blocks
Bricks Made from Fly Ash