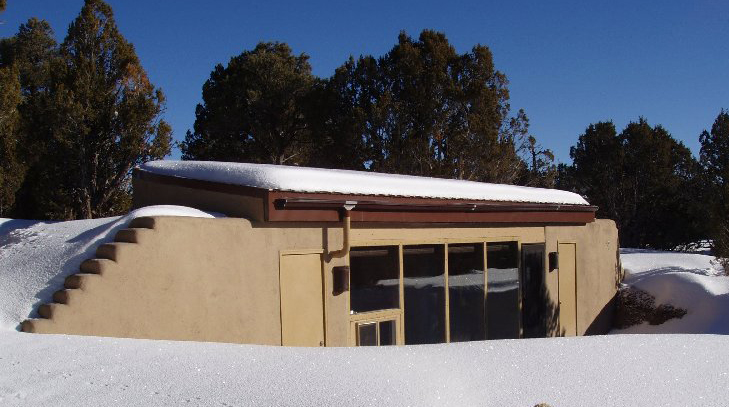 I'm very happy to see more details of this excellent design. We've been following the construction progress on their YouTube videos. Now, they've added a website with much more information. I have to say, this is one of my favorite designs. It is very well thought out, very affordable, very practical. I would love to include a photo of this home in my upcoming earthbag book. If you're the owner, please contact me.
The following information, photo and drawing are all from the Half Moon Earthbag Earthship website.
The Half Moon is a kind of cabin in the mountains, built with some special features that make it livable and sustainable at low cost in its very remote, off-the-grid location. Like typical cabins in the mountains, it is intended to be used as a getaway place for the rest of my working life. It is also my hope to live in the Half Moon when I retire from full time work.
The idea was to build the shell of a cabin, built on earthship principles but with earthbags instead of tires. The structure would be my vacation (and/or disaster) refuge for the next five years, during which time I would finish it out to a more livable permanent residence. The systems and design, however, would be very simple: the smallest necessary 12 volt electrical system (enough to support 3-day visits) and no internal plumbing apart from cistern-fed drinking water. All waste would be forever composted, which ultimately would be placed in a future greenhouse.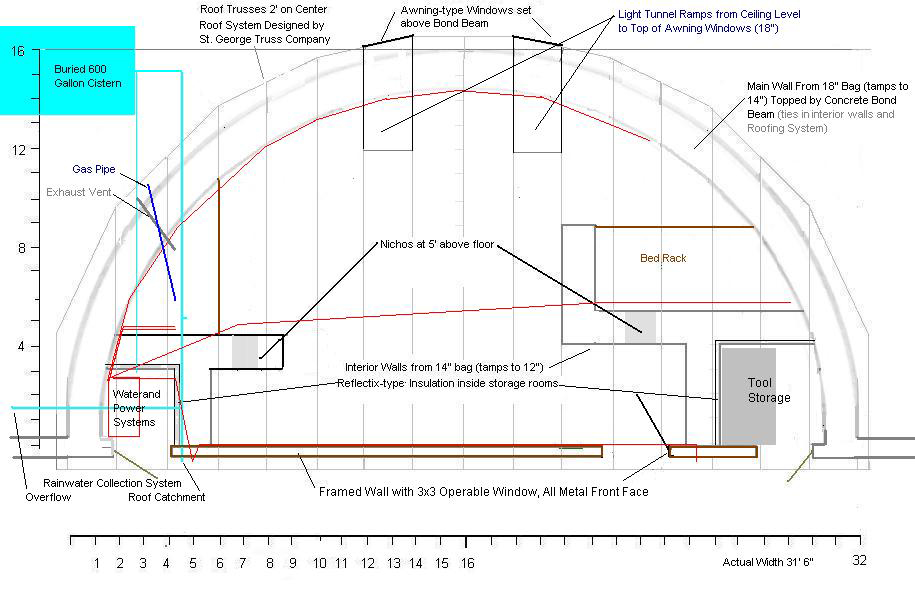 Final building plan
My design idea went through a lot of changes. I originally thought simple and square, then added on wings for rooms for tool storage and mechanical systems. While Earthship modules are recommended to be U-shaped, Hunter's [Earthbag Building] book points out that "underground, round is sound" and has an illustration of a site excavated for what appears to be a semi-circular structure. Since I was queasy about using an earth cliff, as many Earthships do, and I wanted to follow the best advice for building with earthbags, I ultimately accepted Ken's suggestion to redesign the site plan in the round, with the shelter to take the form of a semi-circle (this ultimately led to Ken's suggestion of the name Half Moon).
The Half Moon was mostly built in July 2008. Prior to construction the site was excavated from a sloping area selected primarily because of its view of the mountains to the south. Excavation took place in one day in June, largely because of the preparation and skill of our operator, Mark.
Much more information on this outstanding design is on the Half Moon Earthbag Earthship website. If you're serious about building with bags, this plan is worth careful study. It's one of the few true zero energy homes out there. The Half Moon is averaging 63 degrees inside with no supplemental heating. And because of the owner's careful documentation, others can follow in his footsteps to take earthbag building to the next level.