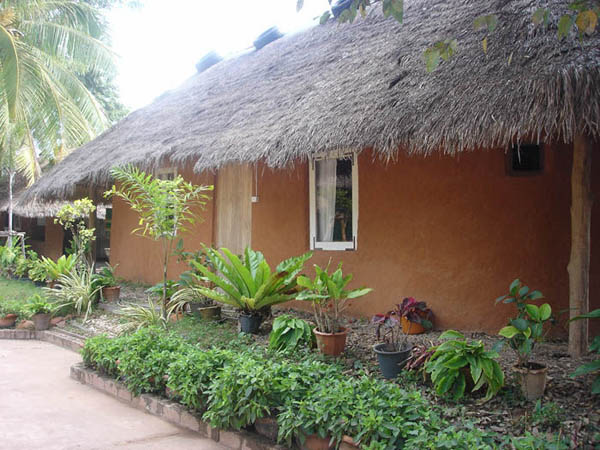 Lots of people ask us how much their earthbag or strawbale house will cost. Cost is a major consideration of any new home, and so it's understandable why people want to learn more. However, many people don't realize how many variables are involved. It's the old "how long is a piece of string" question that makes it very difficult to answer. The following examples will help clarify what I mean.
A reader asked me yesterday how much the Open Source Ecology strawbale house would cost to build. The only accurate way to know what a house will cost to build is to make a cost estimate based on how you are going to build. Pick up a book on cost estimating at a library and plug in costs of local materials, labor and other expenses in a spreadsheet. Costs will vary widely depending on how much you do yourself versus hiring contractors, buying new versus recycled or 'dinged', buying new versus bartering, ordering from the biggest ad in the phone book or the guy down the street, codes versus no codes, factory trusses versus wood from a forest, earthen plaster versus cement plaster, prices in a high cost area versus low cost area, cash versus mortgage, earthbag (gravel bag) foundation versus concrete, flat building site or difficult site, hazardous versus non-hazardous areas, earthen floor versus concrete, simple versus complex design, used wood stove or $10,000 heating system, local materials versus materials trucked in thousands of miles, mild climate versus harsh climate (ex: amount of insulation required)…
As you can see there are lots of variables. Plus, prices vary from one store to another. Shop around. No one place has the lowest prices on everything. Sure, this takes a little extra time, but you can save $1,000 in one day just by comparing prices. [Not bad. That works out to $125/hr. for an 8 hour day.] And, these suggestions are just the low hanging fruit that come to mind. Please read through our websites with hundreds of examples and learn how you can save many thousands of dollars more with pallets, roundwood braces, dented close-out specials, etc, etc.
And just to be clear, we're not talking nickels and dimes here. More like tens of thousands of dollars. For instance, you can find building materials at yard sales and Craigslist at 10% of retail. Building codes in cities can add many thousands of dollars over rural areas with few or no codes. Wood from forests is almost free (usually available with a low cost firewood permit). An earthbag foundation can cost thousands less than concrete. Earthwork with heavy machinery could add thousands versus choosing a site that doesn't need extra work. As the saying goes, it pays to plan, plan and plan some more.
For every item on the building list there are low, medium and high cost alternatives. Some things may be free. The choice is yours. But if I had to pick a low price range for what it might cost to build the shell of the Open Source Ecology plan I would guesstimate around $10,000 – $20,000 minimum.
How to Build Dirt Cheap Houses
Update: Be sure to read the comments below. Jay explains how you can get free materials and earn money doing it.