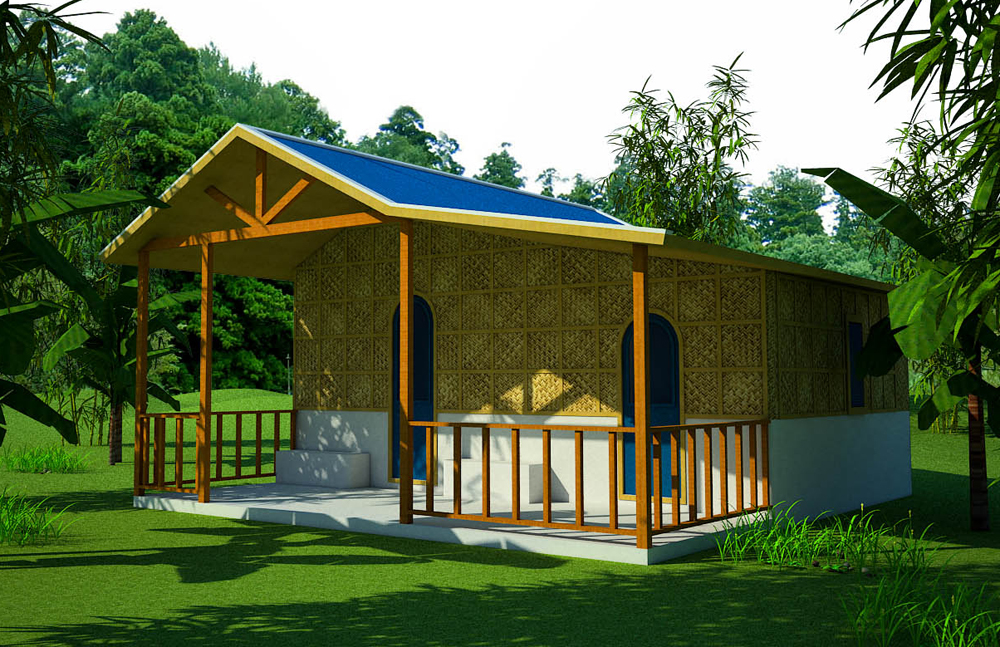 Like many other designers, architects and engineers who are working to help rebuild Haiti, we're constantly trying to create new house designs and improve previous efforts. This new hybrid design for Haiti is based on our Transitional L Kay design. The Kay is the most common house style in their country. Both versions provide immediate shelter and ease of expansion. But the Kay Hybrid starts with two rooms and a broad porch in the front. Future rooms are added in the back. This is the opposite approach of the Transitional L Kay that starts with the rooms in the back.
The Kay Hybrid combines the best features of two building systems: rubble or gravel-filled bags up to windowsill height and a lightweight frame above made with whatever is most practical – bamboo, recycled wood, even straw/clay or vetiver/clay. This creates a strong, flood resistant base, speeds construction, improves ventilation and reduces plaster work. This approach keeps the weight low in the wall for improved earthquake resistance. It also eliminates the need for clay soil, which can be difficult to find and expensive in parts of Haiti. Rubble bags are filled with rubble screened approximately to 1″ minus (or gravel), which is widely available for free.
Free L Kay plans are available at EarthbagStructures.com, and the Kay Hybrid will be added shortly. Please contact me from our Contact Us page if you're interested in using this design.
More info for those wondering "why not use all earthbags." Yes, that's often the best solution, but not always. You have to adapt plans to the site for optimal performance. According to a San Francisco professor of architecture, who is currently studying alternative housing methods in Haiti, a hybrid approach is gaining adherents. "The strong foundation/flood resistant base and lightweight upper walls and roof is a path that we/you and several other folks seem to be pursuing–so in that sense it is "stickier". Another way to think of this is no building system is perfect for all situations. Be flexible and willing to adapt to each situation.