I visited Mesa Verde in Colorado near the Four Corners. This was my first encounter with the "ruins" of the ancestral Puebloan people, progenitors of the Pueblo and Hopi nations. I had heard about Mesa Verde since I was a kid, but nothing could prepare me for the awesome reality. Despite the influx of tourists, there is a peaceful and spiritual quality that persists.
The most famous aspect of what was left behind there are the cliff dwellings, which are certainly magnificent. These finely crafted rock structures emerge from huge alcoves within the cliff faces, and from a distance resemble swallows' nests, fitting into the surrounding rock just as naturally. Actually the cliff houses represent the culmination of about seven centuries of habitation at Mesa Verde. Then around 1300 AD the people abruptly abandoned their homes and moved south and southeast to establish other communities. There is much speculation about why they moved, but the most likely cause was a prolonged period of at least 12 years of drought.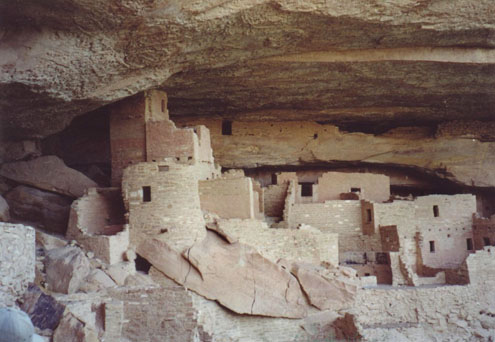 The cliffs were only occupied for the last two centuries at Mesa Verde; before that, all habitation was on the mesa above. At first the people made rectangular pit houses that were dug partially into the ground and then built up with poles and sticks plastered with mud. The entrance was via a hole in the roof with a ladder descending to the floor below. Archeologists believe that from this simple pit house both the freestanding masonry pueblo and the underground circular kiva evolved. The cliff dwellings combined both interconnected pueblo "apartments" and kivas, which were used for ceremonial and community functions. Some of the larger cliff dwellings may have housed over a hundred people. Most of the Mesa Verdeans lived in this communal way, but there were also many smaller housing units scattered throughout the area. It is obvious that they were a very cooperative society.
Little did they know that their style of architecture would become so enormously popular many centuries later. "Pueblo" or "Santa Fe" style building can be linked directly to them. The Spanish introduced modular adobe blocks that make the construction go faster, but the simple stacked rectangular shapes with protruding vigas is native American.
These people were primarily farmers, growing squash, corn and beans in terraced garden plots on the mesa tops. They carefully guided water to their gardens. The mesa itself slopes gently toward the south, which improves the solar gain for gardening, and the colder air slides down the canyons and off the mesa, which increases the growing season.
To read the rest of this article go to greenhomebuilding.com/articles/mesaverde.