Katie Jones and Peter Schmitt's Uptown Strawhouse will be built on the site of their current garage using straw bales for walls, which will not only make the home energy efficient but will actually sequester carbon.
"Passive houses" meet a voluntary energy efficiency standard that drastically reduces the building's carbon footprint and requires little energy to be heated and cooled. The structures have triple-paneled windows, continuous insulation and are airtight.
Katie and Peter are well-versed in energy efficiency, since he works for U.S. Solar and she is an engineer who works for the Center for Energy and Environment. The roof of their new home will have 20 bifacial solar modules that allow light to pass through and reflect up off the metal roof to capture more energy. Their intention is partly to show people what is possible.
This home has a wood frame that is raised like a barn structure and then lined with straw bales for insulation. When the straw bales are sealed with plaster the result is a structure that is extremely energy efficient, fire-resistant and highly soundproof.
The two had been planning to construct a passive home for years and were waiting for city zoning code to comply. They originally thought the structure would qualify as an Accessory Dwelling Unit, but they learned triplexes were not eligible for that designation. Working with their architects and city planners, they eventually applied for a cluster development permit.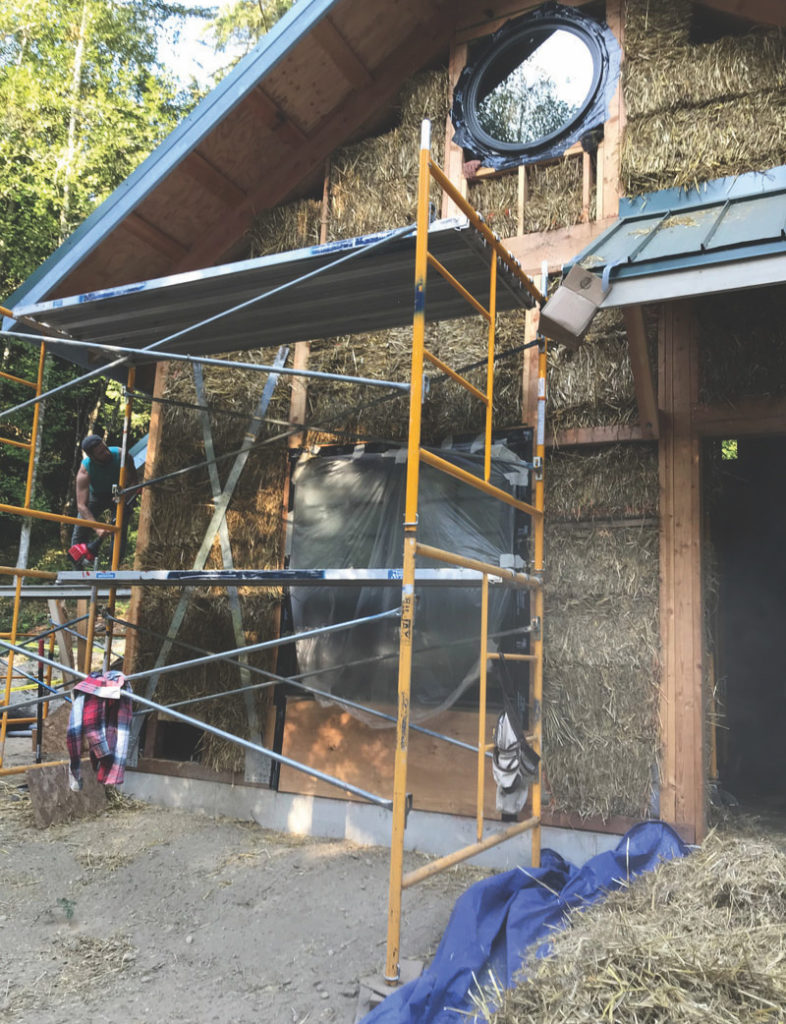 Katie went to Washington state to attend a seminar and home build with Andrew Morrison, a leading national expert on the subject. Morrison has consulted with their architects on the project and will come to Minneapolis to help train the construction crew.
With a design team and builder lined up, they needed to find materials. Turns out there's an app for that, "Hay Map," which matches shoppers with local hay and straw providers. They'll need about 800 "small square" bales for their house. They'll make the exterior plaster with a mixture of hydraulic lime, sand and water.
The couple and their friends will also be contributing their time and labor to the build. They want it to be a bit of a community process. "I like the idea of family, friends and neighbors being part of our build," Jones said.
They are hoping the house will turn into a bit of an exhibit of energy efficiency. "We're happy to show what we've learned with folks who are wanting to do this," Jones said.
You can read the original article at www.southwestjournal.com