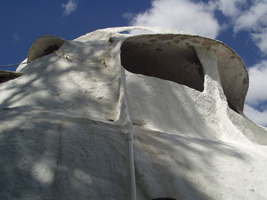 Roofs tend to be one of the most expensive, most difficult parts of building a home. Most conventional roof systems are very expensive and utilize energy intensive materials. One low-tech alternative is nylon cement roofs, which have been pioneered for over 30 years by Bill Birdsall.
Bill's website shows how he built his house and other structures in Puerto Rico. These buildings have stood the test of time in a rainy climate. The building process involves gradually adding thin layers of cement to recycled fine mesh fishnet. Think of it as ferrocement without the ferro (steel).
In comparison, expanded metal lath that's typically used in ferrocement is almost as sharp as razor blades. Not fun to work with at all. But fishnet is light, soft, comes in big pieces and won't rust. Recycled fishnet should last for many years embedded in cement (it has for Bill), and can be obtained for free. Fishing companies replace their nets before they're completely worn out. For safety's sake always use nets that are still strong.
Nylon cement tech article
Nylon cement pics
Bill Birdsall Home page
Hog tie tool speed ups fastening fishing net to rebar
Tirolessa mortar sprayer