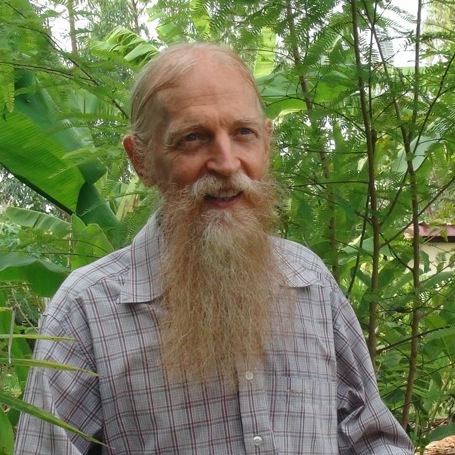 I first met Owen Geiger at a Natural Building Colloquium in New Mexico in 2000. At that point he was already deeply committed to finding affordable and ecological housing solutions for people around the planet. He had been working with Habitat for Humanity building straw bale houses in Colorado. He had gotten a Ph.D. in Social and Economic Development, and was an early Director of Builders Without Borders. He co-authored the Builders Without Borders Straw-Bale Construction Guides and contributed to Building Without Borders: Sustainable Construction for the Global Village.
Owen's background includes years of experience as a licensed contractor building, training employees and volunteers, and overseeing dozens of projects. He was a skilled craftsman and cabinet maker and was very adept at design work. He especially enjoyed designing efficient kitchens.
Dr. Geiger consulted on numerous international housing projects and mentored housing officials with the United Nations Institute of Training and Research. He founded the Geiger Research Institute of Sustainable Building and developed a certification program for straw bale construction. He developed a partnership with the US Military Academy at West Point where some testing was done related to earthbag construction.
In 2005 Owen fell in love with Thailand and decided to live there permanently. Along with continuing to pursue his interests in natural building, he taught English as a second language at several learning centers in Thailand. He established a close relationship with a Thai family and experimented with several earthbag projects on their property.  Owen also established a productive food forest and became an advocate for sustainable agriculture.
Owen was a correspondent for The Last Straw Journal as well as Mother Earth News. He and I launched www.earthbagbuilding.com as a way to reach more people around the world with information about this particularly sustainable approach to building. Soon after this we created an earthbag building blog, which morphed into the current www.naturalbuildingblog.com where Owen and I have shared the responsibility of posting relevant material. Owen especially enjoyed this blogging activity and was the primary blogger until he fell ill and could no longer continue.
Soon after the earthquake in Haiti in 2010 we launched another website, www.earthbagstructures.com, to closely follow the developments related to using earthbag building for reconstruction there. Then again, in 2015, the massive earthquakes in Nepal proved the efficacy and resilience of earthbag building, and Owen took special efforts to be directly involved in teaching the basics of the technology, as well as advancing the adoption of specific codes by the government of Nepal. Much of this work was done in conjunction with Good Earth Nepal, an NGO that has since become www.goodearthglobal.org. They have also been working in India to promote the use of earthbag building.
Owen was a prolific and successful designer of homes, many of which could be built with earthbags. Most of his designs are now featured at my www.dreamgreenhomes.com website, as well as on our blog. Always busy, Owen managed to create the Earthbag Building Guide e-book and Basic Earthbag Building: a Step-by-Step Guide DVD.
Along with these many accomplishments Owen was a good friend and business associate, who would tirelessly answer people's questions and help steward the use of sustainable practices. Owen was a force for good in world and he will be sorely missed, although I suspect that he will continue to tenderly advise us for the other side of the veil.