A reader asked if perlite is a good choice for building earthbag roundhouses. Perlite should work if you make some adaptations. It has excellent R-value and so, in my opinion, is well worth a little extra effort. In fact, it's a top choice because of its R-value of 2.7 per inch. So 15″ would give you around R-40 walls. That's roughly double a superinsulated house. Even the tiniest heater would keep a small roundhouse warm if you have adequate roof and floor insulation. The general rule is to have at least as much insulation in the roof as you do in the walls. Otherwise heat will take the path of least resistance and leak through the roof.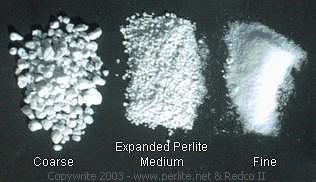 Perlite is a generic term for naturally occurring siliceous rock that's been heated and expanded. It can expand 4 to 20 times its original volume. The tiny air spaces provide excellent insulation. Perlite is a form of natural glass and is classified as chemically inert. More details at Perlite.net and Perlite Institute.
Suggested building techniques:
– Lay lengths of baling twine every 18″ or so on every third course. When the wall starts to get a little wobbly, tie ¾"-1″ bamboo poles on opposite sides of the wall and tie tightly together. You could also use saplings, rebar, 3/4″x3/4″ hardwood "rippers" from cabinet shops or sawmills, etc.
– Minimize windows and doors because this will weaken the design. If you want extra doors and windows, then use posts in these areas.
– Tubes are more prone to rolling, but maybe you can get them to work. Hopefully you can experiment with both bags and tubes and report your results so we can share with others.
– You could add a binder such as clay for added stability. Even if you lose a tiny bit of R-value, your house will still be extremely cozy.
– Use a post and beam design if the roundhouse is more than about 15′ interior diameter.
– Use 22″ wide bags for larger roundhouses when building with bags of perlite, rice hulls or vermiculite.
– Use a wood bond beam and lightweight roof such as metal roofing.
– Consider adding a sleeping loft. That would be my first choice on cold winter nights.
– Keep it small and simple and you'll be fine.
If you build with perlite, please keep us posted of your project. Perlite-filled earthbag building is untested and even though I'm confident it will work, we need first-hand accounts to help demonstrate its practicality. An ideal testing scenario would be someone in Alaska or Canada who can build a small roundhouse.
Image credit Perlite.net