Sandbags can be filled with a minimum of tools (often just a shovel is used), but sometimes you need machines to speed the work. Maybe there's an urgent need due to flooding, or maybe you're building a large number of sandbag (earthbag) houses. Here's a sampling of some of the sandbag filling machines currently available.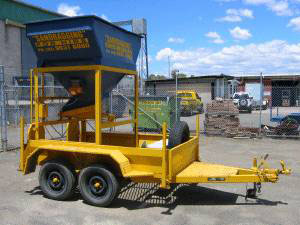 C-MAC Sandbag Machine
This company offers the widest range of bag filling machines I've found so far. Machines are available for sale or hire.
Sandbagger Sandbag Machine
The Sandbagger fills 1,600 bags per hour and includes four filling stations.
To see the full report, go to our Projects page.