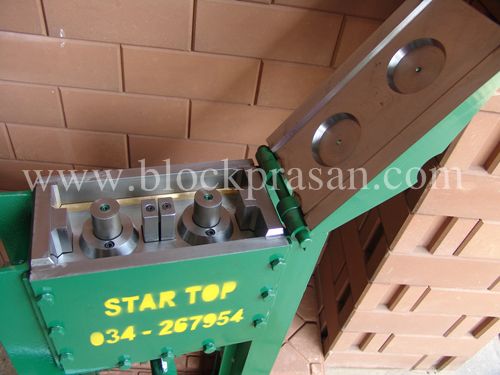 Compressed earth blocks (CEBs) have countless uses and come in dozens of shapes (many more than shown here). They are commonly used for residential and commercial structures, earthquake resistant structures, privacy walls, columns, bond beams, pavers, planters, stairs, etc. For instance, you could make CEB columns on your house and privacy walls and stack earthbags between. (See Confined Earthbag.) Right now I'm making an outdoor oven with CEBs. The possibilities are endless.
Star Top Construction and Blockprasan Co., Ltd. manufactures very high quality compressed earth block presses in Nakhon Pathom, Thailand. When you look at the ¾" (2 cm) thick steel parts, it sure looks like these machines would last well over 100 years with continual use. Note: I am not paid in any way for promoting these presses. I'm very impressed with their ruggedness and quality and would like people to know about their products. In fact, I've admired them for about 4-5 years and have finally got around to telling people about them.
Many people know about the Aureka presses made in India. Here's a brief comparison:
Star Top Standard press makes 10 types of blocks and costs $800 US.
Star Top Hitop press makes 30 types of blocks and costs $900 US.
Aureka 3000 multi-mould manual earth block press as shown here costs $X [cost not available yet, but it's roughly twice the cost if I remember correctly]
Star Top also manufactures a whole line of block making equipment, including hammermills to pulverize soil, mortar mixers to mix the soil with cement, and machine and hand-operated block presses. I'm guessing there are several thousand small shops in Thailand with a similar set of machines. They quoted us $4,171 for the whole set of machines to make blocks by hand and $8,843 for the machine operated set that makes two blocks at a time.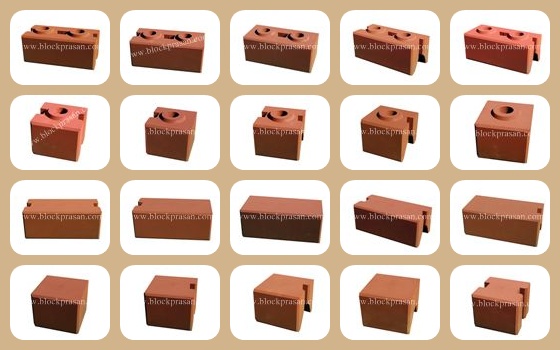 Note the holes in the CEBs. Rebar is inserted through the blocks and then the holes are filled with cement grout. There is no mortar between this type of CEB.
Star Top website
Star Top Technology
Phone in Thailand: 034-2679534
Email: startop@blockprasan.com
Cost of CEBs at Phu Phan Research Center: 23 cents
Standard size of CEBs: 12.5x25x10 cm high (you can make other sizes)
Update: This video shows how the press works. It's actually a competing brand made by K. Thai Machinery Company that looks and operates virtually the same way.