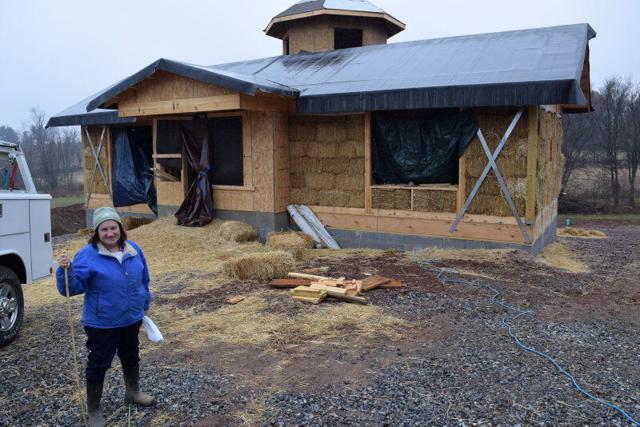 Diane Ferguson, a former environmental health professor, has always dreamed of building a house made of natural materials. Her ideal home has about 650 straw bales stacked together with bamboo stakes driven through them. The straw is then plastered on the interior with an earthen plaster and the exterior with limestone plaster.
Diane worked with Sigi Koko of Down to Earth Design in Fawn Grove, PA. Koko has designed and helped build more than 40 natural homes throughout the Mid-Atlantic region since 1998.
Straw, with an R-value ranging from 36-48, insulates better than more commonly used construction materials. According to Koko, building with straw bales can lead to at least a 40% decrease in heating and cooling needs.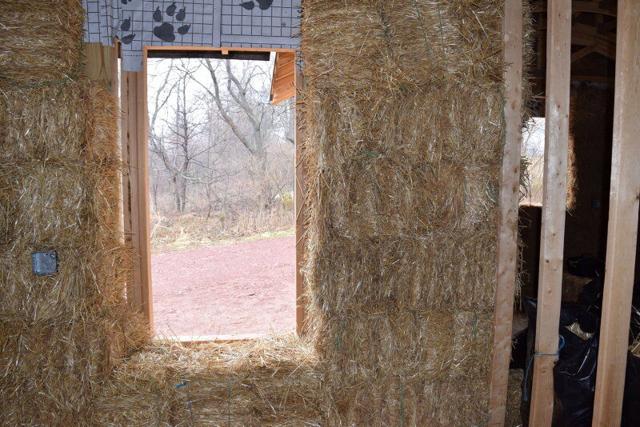 Fire, decomposition, and insect and rodent infestation are among the worries she often addresses, and they aren't problems for straw bale construction, she said. When used to build a wall, the compression of the bales limits oxygen, which removes an essential component for fire. And the plaster that coats the straw is non-flammable. Koko said testing has shown that straw walls exceed a two hour fire rating.
Straw needs a minimum of 18% moisture content before it starts to decompose or grow mold, which is the same percentage for wood decomposition, according to Koko. "We don't even think twice about building with wood," she said.
As for insects, the compaction and plaster layers make the straw walls a poor habitat for bugs, and Koko said rodents won't get through the multiple layers of plaster. "We're building a tight wall with finished plasters on it that's fully encapsulated."
All of the straw bale building projects Koko has designed and helped build are fully compliant with building permits, she said, adding that homeowners just need to demonstrate compliance with building codes.
In addition to being natural and energy efficient, there's another win in building with straw — supporting local farmers. "It's kind of that win, win, win," Koko said. She often advises her clients to go to local auctions to find straw bales, or to look online for local farmers selling straw.
As for Ferguson, she happened to drive by a local farm while a farmer was out baling straw, so she stopped and asked him if he'd be interested in selling her bales so she could build her house. "He gave me such a look. I'll never forget it," Ferguson said of the farmer's reaction. "It was just priceless." But after Ferguson explained the process of building with straw, the farmer was all for selling her the bales. She bought 650.
"I support the builder and the subcontractors all the way through construction," Koko said. "I don't want the homeowner to have a difficult time hiring builders because they're afraid that they have to figure out what straw bale building is." Ferguson was able to find builders and subcontractors willing to work with her non-traditional materials. Koko gets her hands dirty and enjoys being part of the construction process.
Ferguson hosted a workshop at her house, where Koko, along with workshop participants, cut and placed all the bales.
"If you can build with wood, you can build with straw," Koko said. "Any region (where) you wouldn't think twice about building a wood structure, you absolutely could build a straw structure safely, durably, that will last a lifetime and is super energy efficient."
You can read the original article at www.lancasterfarming.com