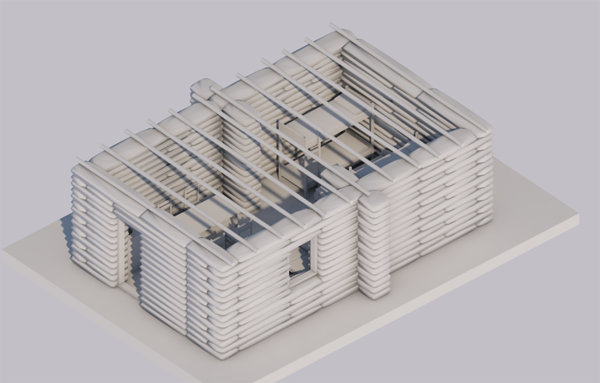 The United Nations High Commissioner for Refugees (UNHCR) has launched a test project for temporary shelters made from bags filled with earth in Syria. The architect, Anas Aljbain, is using ARCHICAD to develop the designs.
Size: 44 m2/473 ft2
Constructed using bags filled with earth, this type of transitional shelter gives the beneficiaries involved an opportunity to work and earn an income — which could also stimulate the start of small business opportunities. Earth-bag house construction is an efficient way to solve the need for basic homes that can be built within a short period of time. Furthermore, the earth-bag house construction system does not require a deep knowledge of construction and can be built by the people who will live in them. Earth is the most fundamental element of earth-bag construction, with many types of earth available around the world. Simple and easy tests can be done manually to decide the methodology of construction using the earth-bag system. An optimal, packed earth to soil ratio is approximately 30% clay to 70% sand.
He estimated the cost per square meter is 12,500 SYP (US$41). By attaching the houses side-by-side, each house (51 square meters/549 square feet including walls) will cost approximately US$1,850. The total cost per block is approximately US$ 13,000. The wash unit will cost an additional US$3,000.
Compared to tents, the earth-bag house has many advantages without being a permanent construction; they can easily be dismantled and the materials can be re-purposed. The transitional shelters consist of two rooms and a kitchenette.
The benefits of this type of transitional shelter are many. The earth-bag houses are:
-Easy to learn and user-friendly – the simplicity of an earthbag building makes them easy to build by unskilled people or communities;
-Strength – an earth-bag wall is extremely strong, owing to its thickness and weight, thus is considerably more resistant to high winds or other destructive forces (earthquake, flood, etc.);
-Adaptable – it is easy to alter the position of wall openings during construction, or to dismantle an incorrectly placed wall and subsequently rebuild it with the very same material. Services – plumbing, electrical and other services can easily be fixed to the earth-bag wall.
-Safety – there are no piles of bricks on site that may be subject to theft, just the bags, which are easily secured, and a pile of earth, which has no value. Furthermore, the earth-bag house has an excellent fire resistance, is bullet- and to a certain extent mortar proof;
-Remote locations – as mainly the bags need to be transported to the site, an earth-bag building can be erected at remote sites.
More at the source: Graphisoft.com