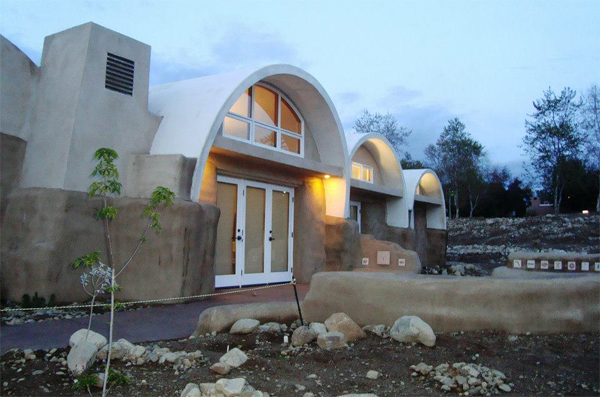 Architect – Claremont Environmental Design Group (CEDG)
Contractor – Oasis Design and Construction
Earthbag/Vault Builder/Consultant – United Earth Builders (UEB)
"Though Uncommon Good is a human services organization, we realize that helping the poor and saving the planet have become inseparable tasks. For when resources are scarce, or environmental disasters occur, it is the poor who suffer first and worst. Therefore, we want to set an example of caring for the environment and caring for each other in the way that we house and operate our organization.
For the past twelve years, the generous Our Lady of the Assumption Church has been providing Uncommon Good with free office space. Yet the building in which we work now is slated for removal and we have outgrown the space. Instead of renting or purchasing commercial property in a sterile strip mall, we are pursuing a different path –creating a Whole Earth Building that will be our office and an environmental education center. Ninety percent of the building materials will be on-site earth, and the resulting structure will have a zero carbon footprint.
Whole Earth Building Concept
Whole Earth Buildings are an innovative way to combat the massive global footprint caused by standard buildings. Traditional buildings are one of the largest contributors to climate change, both through their construction and through their greenhouse gas emissions caused by the enormous amounts of energy they consume, particularly in the United States. Buildings account for 40% of U.S energy use, 70% of electricity consumption and 12% of potable water use.
Whole Earth Building transforms modern architecture, which depletes natural resources, into a method of building which is affordable, sustainable, functional and beautiful. It uses little more than the earth itself as building material.
The technique can be used to create a building of any size, any number of rooms, and a wide variety of shapes. Our Whole Earth Building meets all Los Angeles County building codes, the strictest codes in the United States, and possibly in the world. It can withstand earthquakes of up to 8.0 on the Richter Scale. It is comfortable in extremes of temperature. It is fire resistant, as an earthen pot is in a kiln. These are the climate challenges that face much of southern California."
GRAND OPENING: WHOLE EARTH BUILDING
Uncommon Good's Grand Opening for the first-in-the-world Whole Earth Building on Saturday, April 20, 2013 in celebration of Earth Day. Everyone is welcome!
Website: Uncommon Good Greenspace