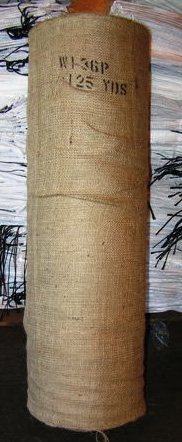 I stumbled on a website – Central Ohio Bag and Burlap, Inc. — that sells "plain" (presumably untreated) burlap in rolls. This opens the possibility of buying or making burlap tubes. This company carries the right size. (Try to find a company nearby to reduce shipping costs.) They have 40" wide rolls of burlap that would make tubes about 19" wide. Many suppliers handle special orders such as this, but no one has made burlap tubes to my knowledge. Please email us if you hear of someone building this way.
From their website:
40" width 7 oz. untreated rolls sold in lineal yards (LY)
125 LY– $110 = .88/LY or .29/lineal foot
250 LY — $215 = .86/LY or .28/lineal foot
(not including fee for sewing tubes)
Most earthbag builders are using polypropylene bags or tubes due to its strength, cost and greater durability. Lately, there's been a lot of excitement over mesh bags and tubes (hyperadobe). However, I'm always hoping for a 100% natural solution (even though earthbag building is already incredibly low impact and sustainable). See Natural Fiber Bags. But for greatest durability bags/tubes of natural fibers would have to be stabilized using something like lime, caliche or alker technology.
Here's another lead. NYP Corporation sells burlap for many applications and can handle custom orders such as sewing rolls into tubes.
Image credit Central Ohio Bag and Burlap, Inc.