This post was contributed by Patti Stouter.
What building materials are available near a disaster site?  Broken pipes, tubular steel, corrugated metal roofing?  All of these can be used to stiffen earthbag walls.
Corners of buildings are especially liable to earthquake damage.  Horizontal motion in a quake can be twice as powerful as vertical motion.  This motion is usually directional, and because it acts differently on walls facing and parallel to the motion, there is great stress on corners of buildings during quakes.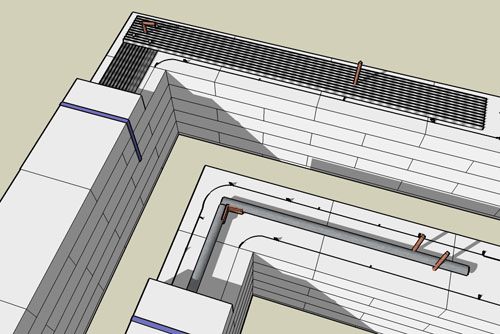 Pieces of tubular steel, angle iron, pipe, or roofing scraps can all add strength to earthbag walls.  The hardest question is can they be securely attached at a corner?  Metal brackets can be screwed or welded to connect tubes or angles of metal.  Pipe fittings may be available.  But corrugated metal may be the easiest to use.
If corrugated metal cannot twist, it is very strong to resist pressure across the corrugations.  Sandwich it between layers of earthbags (tightly), and it won't be able to twist.  It can keep a long straight wall from bowing out.  Overlap it and pin it well at a corner and it can keep the walls from moving apart during a quake.
This kind of brace may be very helpful low in a building that does not have a concrete foundation.  It may be useful higher up to strengthen corners with windows nearby, and allow clean corners to be built without piers.