There is a whole class of cement that was very popular in the days before the invention and manufacture of Portland cement quickly replaced its use. Generally classified as magnesium-based cement, this material was used in historic times in Europe, India, and China, among other countries.  It is unfortunate that Portland cement has replaced the use of these magnesium products because there are many ways in which they are superior.
Primary among these is the fact that they require much less energy to produce and do not off-gas as much CO2 as Portland cement in their manufacture and actually reabsorb the CO2 as they cure. These cements develop considerably greater compressive and tension strengths compared to Portland cement.  Another advantage of Magnesium-based cements are that they have a natural affinity for cellulose materials, such as plant fibers or wood chips; Portland cement repels cellulose. So you can actually use wood chips as an aggregate to achieve lighter weight and more insulative products.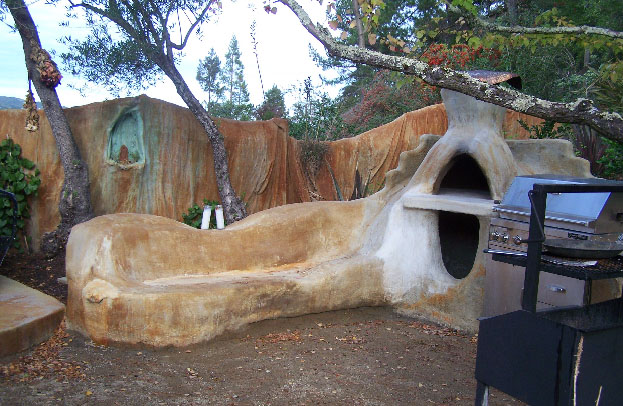 An example of this is what Michael Collins, an artist/visionary/eco-builder, has been creating with magnesium cements. Since these cements completely cure within hours of application, amazing sculptural forms can be created almost spontaneously and become usable within a day. Michael points out that a team of workers could build a small house in one day, and people could be living in it the next.
While a bag of Magnesium cement might cost 2 to 3 times the same weight of Portland cement, that doesn't mean that it is more costly to use. This is because with the attributes of the MgO cement, you can create very strong thin-shelled structures using a variety of lightweight and inexpensive fibers; something that ordinary Portland could never do.
Because of these attributes, I think that magnesium based cement could prove to be very useful in conjunction with earthbag structures, either for roofs or as an exterior plaster, or both.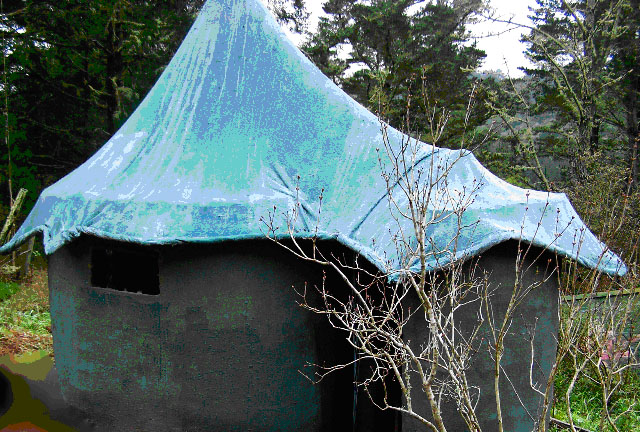 Providing a water tight roof is always a challenge with any earthbag building design, and this can often be the most costly aspect of building. With magnesium cement, you can actually create a self-supporting roof within a few hours, just by draping burlap over an some temporary supports, and then saturating it with the wet cement.
As a plaster, it would be very easy to drape burlap or other natural fibers over the bags, stretch and pin it tight, paint on the cement, and wait a few hours for a waterproof plaster. If this were done on a dome, you would have solved one of the most vexing problems of building earthbag domes: how to seal them from the weather!
Michael Collins has described one simple method of building this way which is posted on his questions and answers column. If you have any questions about the possibilities of building with this amazing material, Michael is happy to answer them for you. Just go to the Ask the Experts page. And I have posted a longer article about Magnesium based cements at www.greenhomebuilding.com, that links to several companies that manufacture products based on it.