In an effort to prove that a simple earthbag roundhouse could be built entirely with unskilled and inexperienced labor we made a leap of faith.
We bought a block of land on the island of Efate in Vanuatu. We intended to build a women's centre and hoped to inspire pacific islanders to recycle and build safe affordable Eco housing. This is not a charity or a religious venture. It just started with one Australian family wanting to help some friends in a nearby island.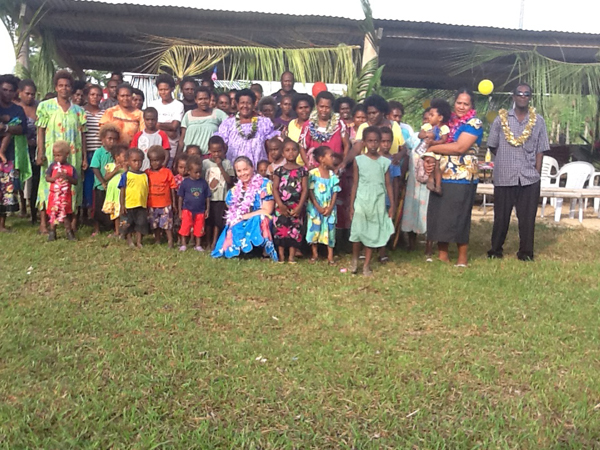 On Friday the 22nd of March the first shovel hit the ground. By the afternoon a one metre deep graded trench had been hand dug around a 6 metre circle. Rock had been chipped away with pick axes and although it was grueling work everyone helped. We had more than 20 local men and women on site at a time using hand tools.
On Friday night we had a tropical downpour that lasted several hours. I was convinced that our trench was going to look like a donut shaped swimming pool but it didn't retain one drop of water. Great land.
Saturday morning we lined the trench with geotec mat and laid the pierced drain pipe and coral crush in the trench and completed our French drain. That afternoon we traveled to the airport to collect Jeff and Steph two Americans traveling from Antarctica and Lauren an Australian lawyer. We bought our second hand flour bags from the bakery in Port Vila on the way back to the site.
Sunday morning we tamped the footings and cleared the land. This was done with shovels and buckets and a wheelbarrow. Jeff came on site and immediately showed his skills as team builder and organiser.
On Monday we double bagged and laid one row of coral crush in the trench.
Tuesday started with the first two rows of barbed wire around our first row of 40 bags. The work site was wonderful, two more rows of crush went up and then we stopped to put the door bucks in.
Wednesday we were joined by a French/Italian couple who are travelling through Vanuatu. We laid a plastic damp course and got our first row of earth on. The earth row was cheaper because we were single bagging but a little slower going. We got one row up on Wednesday and then the form was tamped into place top and sides until a nice uniform level shape was achieved. This took six men at a time in teams of two a couple of hours.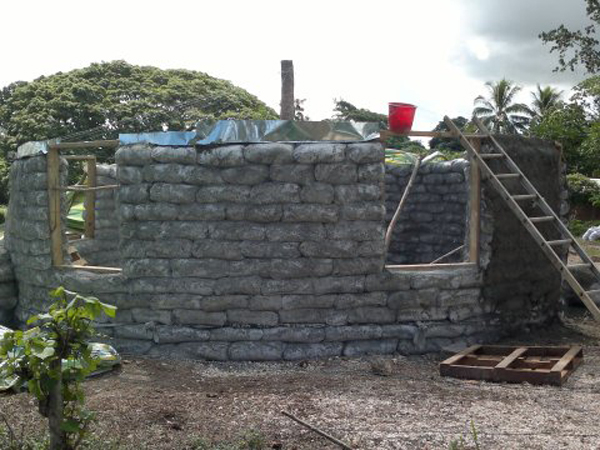 Everyday more and more people came to the site to see what we were doing and many of them joined in. We had local politicians and village girls and mothers and unemployed local labourers all working together with lawyer, sommelier, surfer, computer/logistics, jeweler, physiotherapist and many more skills on tap but no builders on site. Australians, Europeans, Americans, and Melanesian and Polynesian pacific islanders. Some filled and placed bags, some sorted the organic matter from the soil, some mixed the sand and soil and some barrowed the buckets of mixed earth to the bag layers.
At 12 every day women would walk out of the jungle carrying pots of food and jump off local buses with bags of fruit and we would stop and feast on papayas and avocados and lap lap and bananas poached in coconut milk and rice with chicken and corn. We drank fresh coconut water every few hours and there was a great team atmosphere. During lunch all the kids from the preschool gave each other wheelbarrow rides. Some ran around the circle of bags giving a little extra tamping.
People told us stories about selling off land in order to afford a block house and then losing it all in a cyclone. Some of the women walked more than two hours each way to come and work. I have never seen people so hungry to learn. Everyone expressed the dream and the intention to build one for their own family.
I was often quizzed about what charity my family were working for-what church we represented. I realise that we have such a culture now of letting charities handle our conscience that we forget it is possible to just find a community that needs help and help them with out all the paperwork and tax deductions. It was such a refreshing and joyful experience. When we let charities handle our kindness for us I think we get robbed of a little joy.
I was so sad to leave it at half height. After the Easter break, the work will continue and the walls should be completed by the end of the week. My family will return in July to feroscrete the thatch roof and plaster the inside of the building.
Jeff and Steph will be updating you on next week's progress. They are working with a group of intelligent and resourceful people and I'm sure they will finish well."
Update: "It looks like P&O cruises will be offering tours to their passengers in port Vila. They can spend a morning at the women's centre being taught to make an earthbag and touring the building site. It seems they will actually make the process of building into a tourist attraction along with their traditional crafts. The centre is 5 minutes drive from the port so it is perfectly positioned for day trippers that want to pack a lot in."
Update: "The P&O thing hasn't been finalised yet but you can say that the women are doing bag building tours for cruise ship passengers. They have a couple of local tour bus drivers that pick passengers up at the port and bring them to the building as part of day tour of the island."
Liz