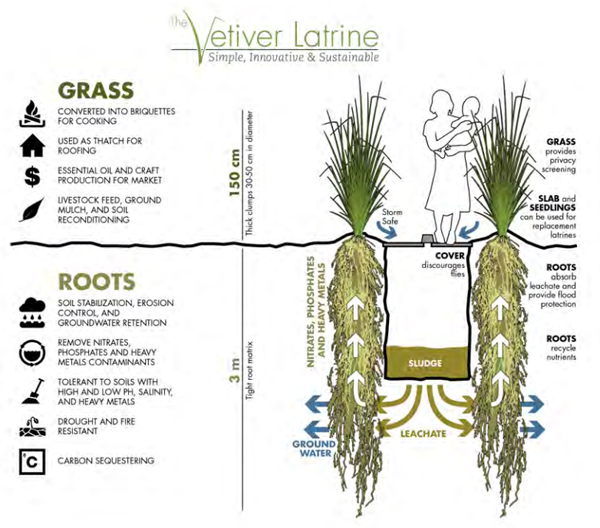 "In our world of ever evolving technology where we have access to an infinite amount of information through cell phones that can become out of date in six months, we sometime we take for granted the basics. It is easy to forget that more than one third (37%)(WHO 2012) of the global population does not have access to adequate sanitation. Sanitation is considered the greatest medical advancement attributed to almost doubling life expectancy (BMJ 2007). It is estimated that access to adequate sanitation can reduce infant mortality (Spears 2012) to reduce the 750,000 childhood deaths annually attributed to lack of sanitation(Li Lui et al 2010).
A Vetiver latrine is simply Vetiver grass seedlings planted around a small concrete slab above the pit. Instead of bricks and mortar the long roots of the grass stabilize the pit and even remove environmental contaminates. Above ground the blades of the grass provide a tall, thick privacy screen that is effectively storm proof and cannot be misused for storage. The design is simple enough for the household to construct themselves with some basic training. Once the latrine is filled, the slab and seedlings can be transferred over to the next pit location.
Other than one bag of cement, some rebar, local materials' and vetiver seedlings, no further pit lining is required. Once the slab is made and the Vetiver grass is planted, no other inputs are required. The next latrine can be constructed with the same slab and seedlings from the previous latrine. The latrine is affordable to the most disadvantaged families. A vetiver latrine is approximately one twentieth of the price of a traditional latrine because there is no need to transport a large quantity of bricks and construction materials to remote locations for the pit lining and housing and no need for skilled labour for construction. The time required to save for a latrine can dramatically be reduced from two to three years for a normal latrine (WSP, 2005) to about two to four weeks for a Vetiver Latrine."
Read more at the source (PDF report): Vetiver.org
Vetiver Network International (top site on all the hundreds of uses of vetiver)
Thanks again to Zafra for another excellent tip. The Vetiver Network International is a great resource. Here's the link to all the documents that came out of the vetiver conference in Colombia this year.