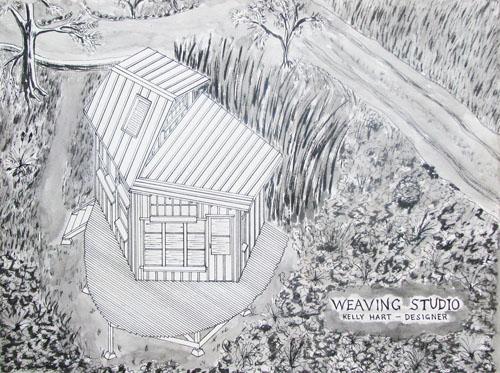 In the early 1970's I was commissioned to design and build a small weaving studio on property located along the coast in Bolinas, California. The client was a weaving apprentice with my sister, who was living on rented property with her family. There was room on that property to place a small studio separated from the main house, and that is where she wanted me to build the studio. Obviously it would be foolish to place a permanent structure on rented property, so I suggested that I design it in such a way that it could fairly easily be dismantled and moved elsewhere if necessary. She liked the idea, so that is what I did.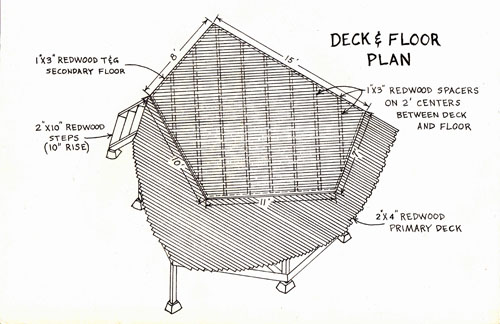 The floor plan is a unique irregular pentagon of about 170 sf placed on an extending deck that originally overlooked the ocean. There is a sleeping loft accessible by ladder and plenty of windows for light, views and ventilation. There is even a skylight over the loft to see the moon and stars at night. There are about a dozen wall and roof panels, each of which could be unbolted from the others, so it would be possible to dissemble the entire studio and place it on a flatbed truck to be transported.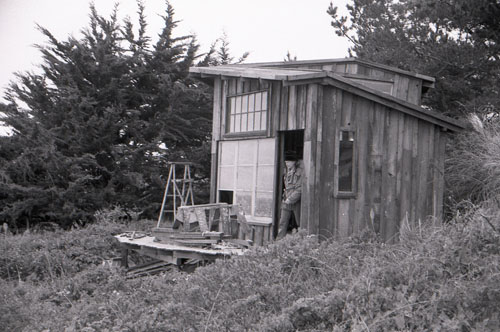 The client had a very limited budget, so I concocted a plan to use salvaged lumber from an old redwood chicken coop that the owner wanted removed from his property. This allowed me to source nearly all of the materials for free. The accompanying plan specifies redwood throughout because that is what I had to work with at the time. Redwood is now a nearly endangered species, so I would no longer specify this, unless there happens to be a source for salvaged redwood lumber. For the most part the redwood could be substituted with pine or fir that is sustainably harvested, or some other salvaged lumber.
Coastal California has a rather benign climate, not requiring a great deal of insulation, so this plan shows a unique wall system with several layers of exterior cladding over the basic frame. This is comprised of a sandwich of diagonal boards covered by tar paper, then aluminum foil (as a radiant heat barrier), more tar paper, then a final traditional board and batt treatment. This arrangement created a water and air tight wall that could withstand whatever the coastal winds threw at it. Even the roof was built this way, but these days I might prefer to use metal roofing that would likely last longer. A better insulated building could easily be created by adding insulation between the wall studs and sheathing the interior, as well as the roof. A small heater or wood stove would keep the space cozy all winter long. And the design also has a passive solar aspect if oriented properly; some additional thermal mass placed on the inside would help keep temperatures stable.
The studio that I built was eventually moved to another location before the land on which it stood was swallowed by the ocean. The rental house is now gone as well.
This plan can be purchased at dreamgreenhomes.com