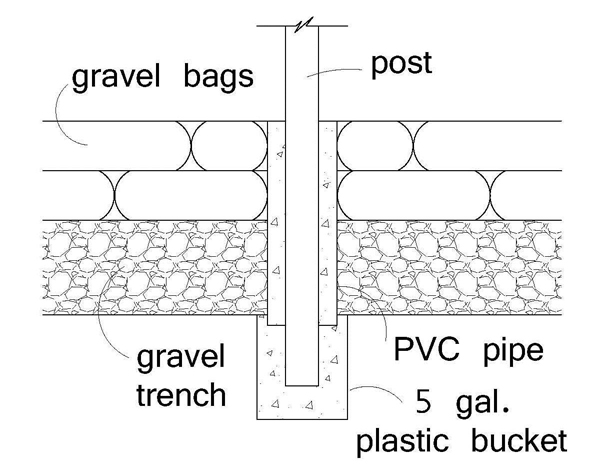 Many of our readers use post and beam frames for their natural homes and so it's important to know various options for setting posts. I've been corresponding with Zafra, one of our readers and the lady who helped translate my Earthbag Building Guide into Spanish. She and her partner Daniel are going to use bamboo poles on their natural home in Venezuela, but the method shown here will work just as well with wood or metal poles.
The drawing is pretty much self explanatory. Here's a quick overview and some suggestions for this low cost footing technique:
1. Fill 5-gallon bucket with concrete for footing.
2. Wrap the lower part of the post in plastic sheeting (the part in contact with concrete because concrete wicks moisture and will cause the post to rot).
3. Raise the post off the bottom about 4"-5" so there's enough concrete to carry the load.
4. Fill PVC pipe around the post with concrete. Extend the pipe and concrete about 12″ above grade to prevent water damage (above 50-100 year flood level)
5. Plumb and brace the posts, then add gravel bag foundation on rubble trench.
Zafra and Daniel's blog Casa Abya yala