"I love your fascinating website so I thought you might find my efforts, to get a more sustainable [insulated home] into mainstream acceptance here in the UK, of interest.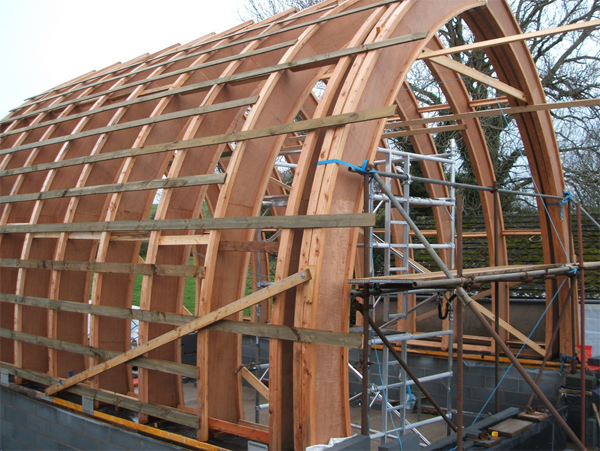 The general public are intrigued by "organic" homes but will not be persuaded to make them their homes because when spending on the biggest purchase of our lives we are all naturally conservative. So, although a little different it's not too scary (one hopes) and it's really to help self-builders into home ownership.
All the best,
Brian Waite
Quotes from Straw Bale House.co.uk
"I designed this low energy, low carbon, affordable strawbale house primarily to reduce my own energy bills in retirement but it is obvious that we all will need to reduce our energy consumption so it is now available as an easy build "kit" for self-builders.
The craziness is that it costs money to be a polluter. New UK homes use three and a half times the energy of German or Scandinavian homes and energy is and will be evermore expensive – in many ways.
Unfortunately the words "eco" & "green" have a hollow ring now they have been hi-jacked by politicians, nevertheless we will all have to think "green" if we to create a more sustainable future for following generations.
Why a house of straw?
The UK alone produces 4 million tons of surplus straw every year – enough for 250,000 homes. Straw must have the lowest embodied energy of any building material and is probably the cheapest and most sustainable. Straw-bales have an insulation "U" value twice that required by present building regulations as well as excellent sound deadening properties which, together, give a living space an ambiance that has to be experienced to be appreciated.
Contrary to common perception straw-bales in a building are not a fire risk, are not a vermin risk and are not short-term, but would compost back into the earth if and when required to do so. Straw in bales is too dense to contain enough air to support combustion, just add lime render/plaster and any fire regulation requirement is easily met. In fact both Texan and Australian fire test reports recommend straw bale houses in bush-fire prone zones.
There is no nutritional value in straw and so it does not attract vermin, it is only voids that vermin like, so proper attention to detail is the only precaution needed. Lime rendered straw-bales "breathe" so evening out fluctuations of humidity thereby creating a healthier environment."