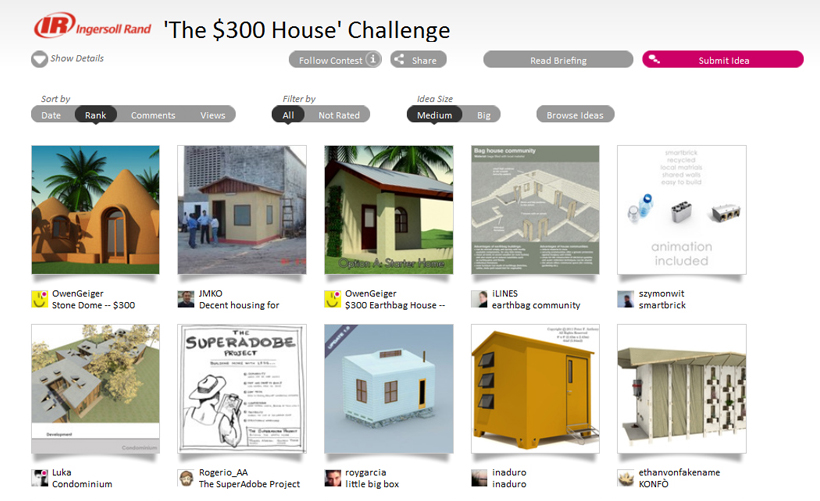 Four of the top seven house designs at 'The $300 House Open Design Challenge' are currently earthbag houses. The ranking keeps changing, but that's where it's at right now. This is incredible. Of course I've known earthbag is growing in popularity, but to see it surge to this level is very exciting.
In the screenshot you can see my Stone Dome – $300 Geopolymer Earthbag Dome in first place. (Let's hope it stays there!) My $300 Earthbag House – What the World Needs Now is in third. Fourth and seventh places are also earthbag designs.
Also note the Stone Dome has received 74 Facebook "likes" in just the last day or two. Compare this to the other top entries, most of which have none or just a few. That's a very good sign that the Stone Dome is resonating with people.
The project currently in second place is a concrete box. This is a contest for sustainable $300 dollar houses and I can assure you there's no way to build a concrete house for $300, and it's certainly not sustainable. We need your votes to keep the earthbag projects at the top of the list. Please follow the links above to sign in and rank your favorites. Every vote makes a big difference because relatively few people vote. And comments are also welcome.
I've also submitted a third proposal — $300 Geopolymer CEB House — based on a reader's request. Digeldart left a comment on my Stone Dome proposal that said: "Combine this product material [geopolymer] with some of the other block concept submissions and there is a winner." So that's what I did. Even though I'm sold on earthbag building, I also realize that CEBs are very popular and so the barrier to entry would be very low.