Flow House is a contemporary home with a unique facade that embraces sustainable design and passive air flow. It is located just outside of Da Nang City, Vietnam (known for its high temperatures and humidity), and is made up of three structures that aid the flow of air from one section to the other.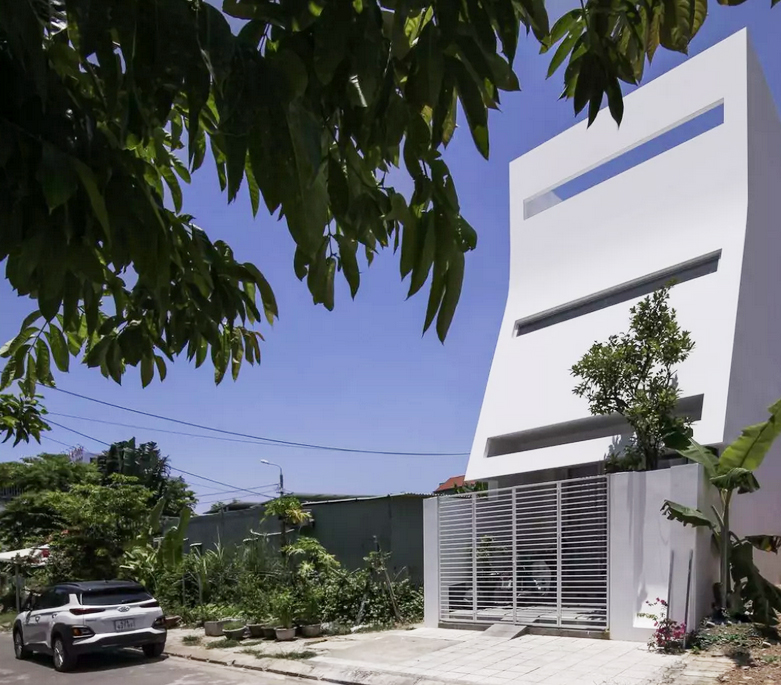 The unique architectural design of the dwelling has been created to shield the home from the sun and mitigate its west-facing facade, thus providing even and cool interior temperatures all year round, without the need for air conditioning.
The curves of the exterior are carried through to the interior of the home. It features Cathedral ceilings, crisp white walls, indoor gardens and three large skylights for an abundance of natural light. The three interior gardens, combined with the skylights and three prominent ventilation pathways into the home, work together to harness an air flow that is self-regulating and consistent.
"Passing through these gardens, you will clearly feel the wind blowing into every corner of the house," said the architects.
The home's floor plan has been created to suit three generations of family members – it incorporates living and sleeping quarters for the older members on the ground floor, and reserves the second floor for two children and two parents. The three structures are joined via indoor walkways and landscaped gardens, providing a calming and peaceful atmosphere for its residents.
Flow House cost about $69,000 US to complete and took a little over four months, which was longer than anticipated due to pandemic delays.
You can read the original article at newatlas.com