Polypropylene bags are susceptible to UV damage if left exposed to sunlight for more than a few weeks. High intensity sunlight in deserts and at high altitudes is a particular concern. Builders typically use tarps to protect earthbag walls during construction to minimize UV damage and maintain the strength of the bags. But tarps have numerous drawbacks: They blow in the wind, often need readjustment as you work on different parts of the home, and they cost money. This blog post explores ways to eliminate or reduce tarping to save time and money.
One possibility is to coat exterior surfaces of bag walls with latex paint. That's what Ghost32 used, author of How to Build a House Single Handed, in Hereford, Arizona. Latex paint can often be acquired very inexpensively. Sometimes you can locate mismatched colors or buy it from recycling programs. However, the latex paint may hinder bonding of stucco. Please send us your comments on this. Ideally there would be more testing before this method is put into widespread use.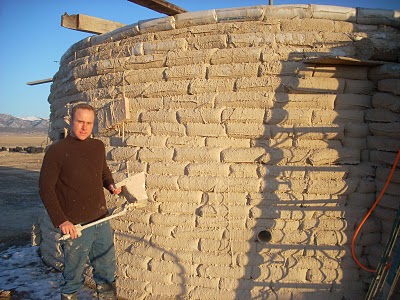 Nolan Scheid of MortarSprayer.com suggests adding a skim coat of what will be used as the final plaster. This is what Geoff and Ellen of the Montello Alpaca Company did on their earthbag home in Nevada, in order to protect the bags as soon as possible. See this page for more photos and a video clip.
Nolan also offers this advice: If saving money was higher on the list than saving time, instead of a sprayer, I would try a slop bucket and a long bristle broom. Mix local dry clay and sand with latex paint in place of the water.
Image credit: Nolan Scheid