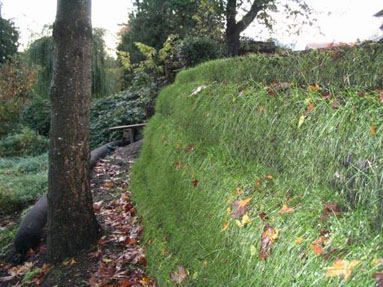 I recently wrote an article about living walls for GreenHomeBuilding.com, and in doing the research for this I came upon an interesting approach to creating a kind of living wall or retaining wall using geotextile materials. Basically, loosely woven bags filled with a growing medium can be stacked to form walls that then support plant growth.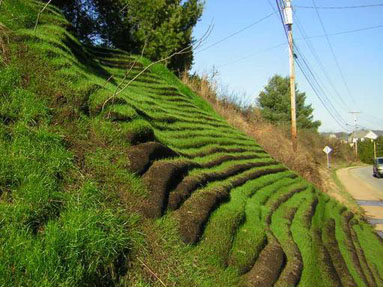 One company in particular, www.filtrexx.com, has been selling various systems for doing this for some time. This is a green alternative to hard-faced walls, and can create walls that are either completely vertical or slope up to 2:1. A variety of vegetation can be supported this way, depending on the location and purpose of the wall. They say that this is faster to install than conventional block materials used in retaining walls.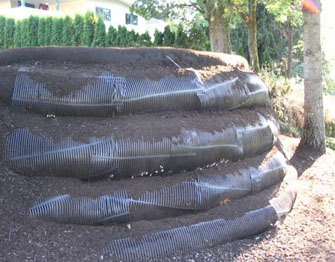 But if you look at the basis of the concept, it is not that different than building with earthbags: bags of material are stacked to form walls. But in this case, the bags are then protected by the plants that grow out of them, and this vegetation becomes the exterior interface with the environment, providing oxygen, filtering the air, and looking beautiful.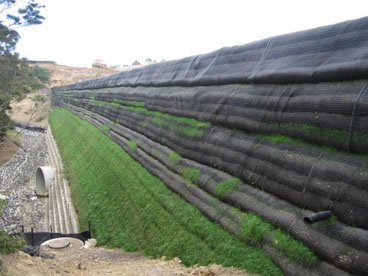 So how might this idea be utilized for buildings? Obviously the main issue is the moisture that inevitably will migrate into and through the wall to the interior space…unless there is some way to stop it.
One approach might be to build the earthbag structure as is frequently done, with compacted soil, and then cover this with a waterproof membrane to protect it from intruding moisture. A second skin of a "living wall" could then be applied over the membrane, both as protection for the earthbag structure, and as an insulating layer.
This would create the ideal situation for climate-responsive housing, where the inside is composed of thermal mass materials, and the shell of the structure is insulated to keep the interior from loosing its comfortable temperature.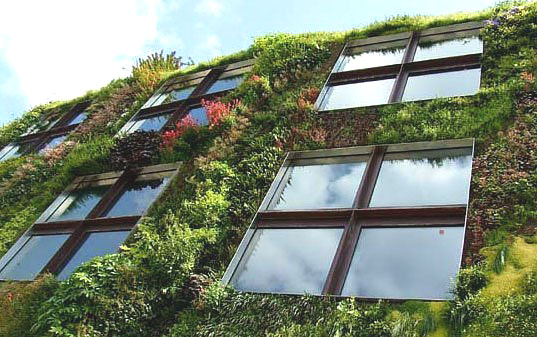 Besides using the geotextile bags, it is also possible to use one of the variety of systems that have been devised for creating living walls that are attached to buildings, as shown above. Many of these sophisticated systems automatically provide the necessary water to maintain the plants, so there is very little maintenance over time.