The house that Joel and Barb Mielke built for their retirement is located in rural Preston, MN. Large windows open to a view of acres of prairie. It has wood and stone detailing.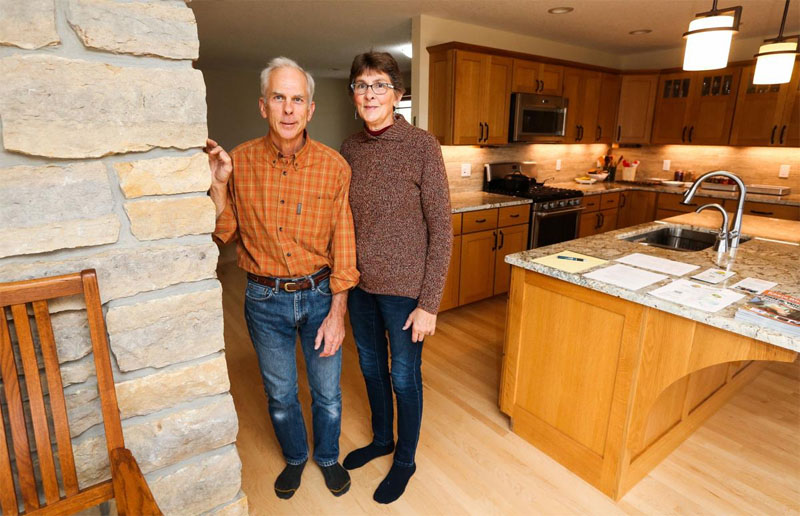 When they designed their dream home, they wanted it to break even on electricity and after installing solar panels to create energy in the summer and a custom appliance system to use as little as possible in the winter, they did it. Both of the Mielkes are chemical engineers and Joel created the energy design. "Energy balances are second nature for me," Joel says. "I've always been thrifty in the case of resources. I don't like to waste things."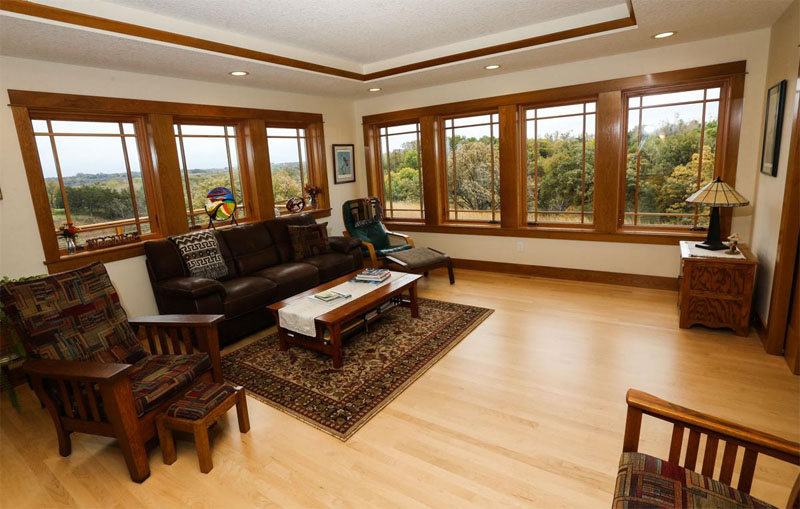 They created a "thermal envelope." The Mielkes' house is insulated for maximum heat retention. Very few rooms in the house vent directly to the outdoors. Instead, hot air routes down and out through floor trusses. The house has triple-pane windows, to trap extra heat. The extra cost was minimal, Joel says, and the couple "wanted to push it as far as we could."
The Mielkes' south-facing windows are 200 sq. feet and were specially shaded and treated to let the sun in during the winter (during the summer, they should be shaded) for passive solar gain. "By the end of September, we're just starting to get sun into the house," Joel says. That's an extra little bit of heat that they don't have to generate or buy. In an attempt to keep fossil fuel use to a minimum, the Mielkes also use a hefty Norwegian wood-burning stove to heat the house. They burn dead wood from the area around their house, and only harvest roughly 10 percent of the trees that fall on their land.
The Mielkes are on the grid. Their house and solar panels don't have batteries to store the energy created. So when the sun is shining, Barb says, the Mielkes export energy to the local power company, which buys their electricity. When it's cloudy, they import energy to power their home. Last year, the couple generated more than twice as much electricity as they used. "We've exported enough energy to offset driving our vehicles," Joel says. Also, they didn't pay any energy bills last year. "They gave us money back, actually," Barb says.
Quite often, when people hear about the Mielkes' house, they assume that the couple wanted to avoid energy bills. But the larger issue at hand is environmental stewardship, Joel and Barb say.
You can read the original article at www.postbulletin.com