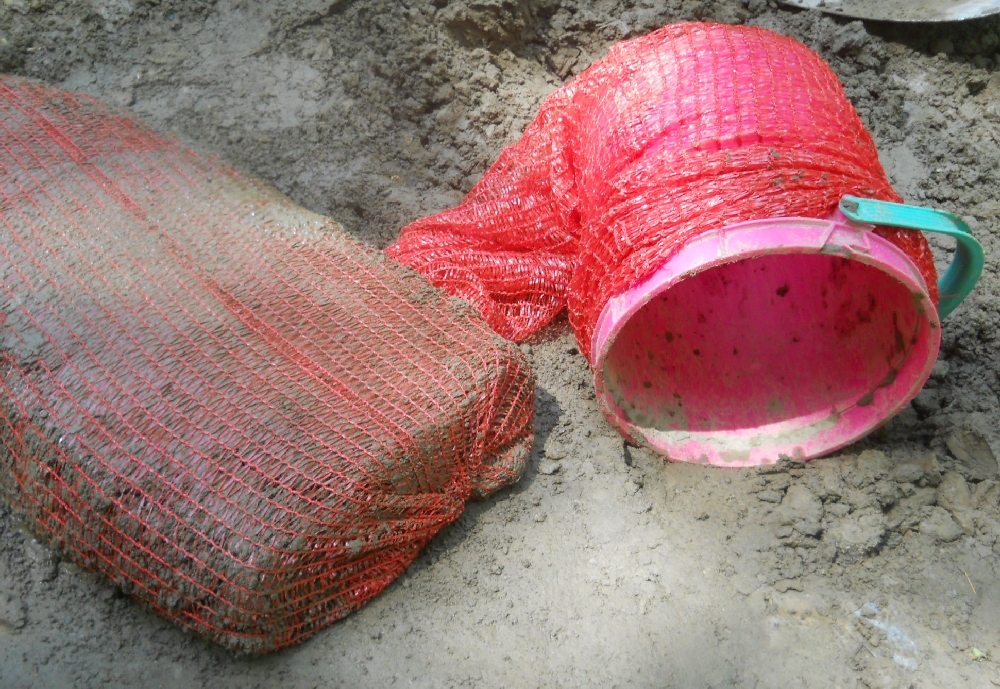 Patti Stouter sent me this news about raschel mesh from a supplier in Canada that works perfectly for the narrow rubble walls in her Totally Tubular design. She builds hyper-wattle — tubes of lightweight insulation — on top of the narrow rubble walls.
"The 18″ wide raschel got here last night and I tried it out today. It is strong enough to work with easily, none of my soil fell through (only a little dry sandy soil will fall through I think), and it seems to be a good size. It tamps to 12″ wide at 4″ high or 13″ wide at 3.5″ high. I think this is acceptable.
If I remember right this is $170 ($Canadian) for a 1000 m roll plus shipping. It's called 18″ raschel mesh."
Contact: Maurice Wilson, Bag Supplies Canada, Stratford, Ontario
1 519 271 5393
Update: Maurice just found out that the raschel mesh had been misunderstood. His supplier thought he wanted a flat length. So to get a tube, he'll have to charge 237 $CN for each 1000m roll plus shipping.
We need to modify the price listed on the blog post. He's offering UV resistant raschel mesh 18- 20″ wide.
If shipping is $60 each (a little low, but people will often buy 2 rolls for a modest house since 1 roll will build only 120 lf of 8′ high walls) then that will end up costing about $109 for a 10′ x 10′ room.
Calearth's tubes plus barbed wire cost about $390 per 10′ x 10′ room.
18 x 30 bags bought at 30 cents each including shipping will cost with barbed wire about $137 per 10′ x 10′ room.
If someone uses misprinted bags for 20 cents each including shipping it will only cost $97 with barbed wire. But these will not be UV resistant.
So the raschel mesh is much quicker to build with, lighter to transport, UV resistant, and costs just 12% more than the cheapest non-UV bags that can be bought in the US. He's ordering 20 rolls for the first shipment, so people may want to place their orders with maurice@bagsupplies.com.