The preservation and reuse of already existing buildings is a great way to reduce the construction industry's sizeable carbon footprint. Adapting under-utilized buildings matters now more than ever as cities around the world grapple with a crisis in affordable housing and the ongoing challenges brought on by a changing climate.
In Brussels, Belgium, this former industrial building was changed into a mixed-use complex, combining a four-story, townhouse-style residence with some additional co-working spaces on the ground floor.
The existing structure has now been topped with a timber-framed extension on the roof and clad in beige brickwork. The new windows on the facade are quite large, allowing natural light to flood in. The goal was to create a series of flexible and habitable spaces with sustainability in mind, all within an older building that has been given a renewed lease on life.
The layout is arranged with two adjacent co-working spaces on the ground floor. The choice to leave the existing steel columns exposed offers a hint at the building's former past.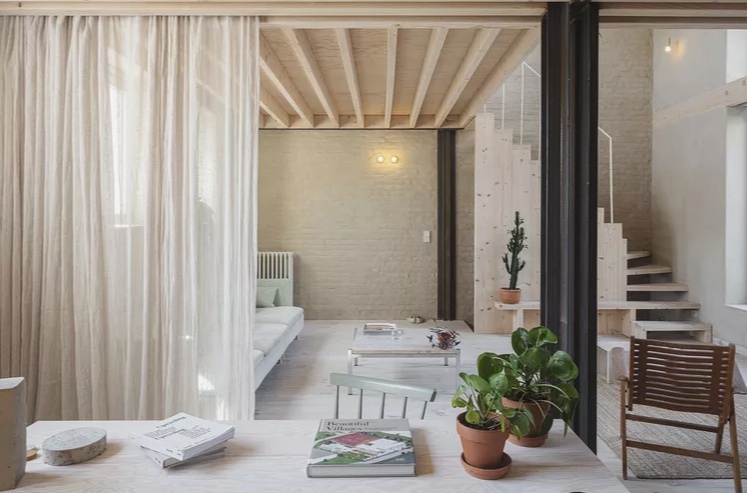 There is an emphasis on natural light in the new design, which is complemented with neutral colors and natural materials. In one corner, there is a wooden staircase that goes up to the apartments above. One can also access the garden at the back from the ground floor.
The second floor is occupied by an apartment that has its own separate entrance and spans three stories. The layout for the residential space has been designed to be flexible so that rooms can be added or dissolved as future needs dictate.
On the first floor of this apartment, we find a sitting room outfitted with a table and bench.
There are also some bedrooms, all of which have been finished with plastered walls in a soothing beige tone, and an exposed timber structure.
The floor above includes a dining area and a kitchen, both of which open up onto a rooftop terrace.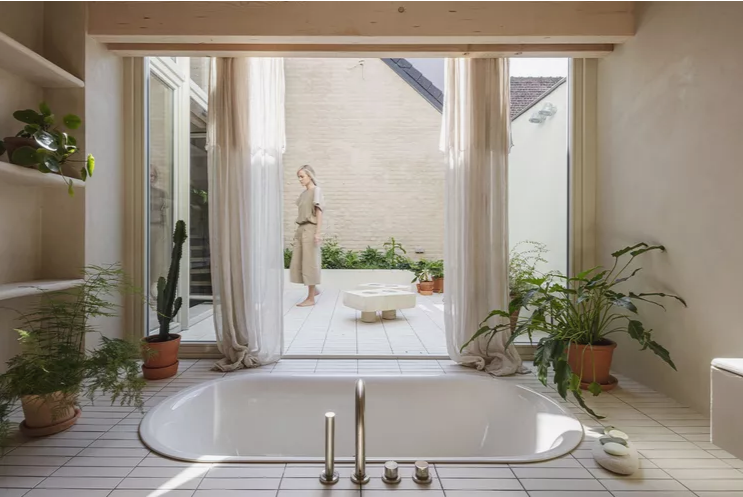 The white-tiled terrace is also connected to the bathroom.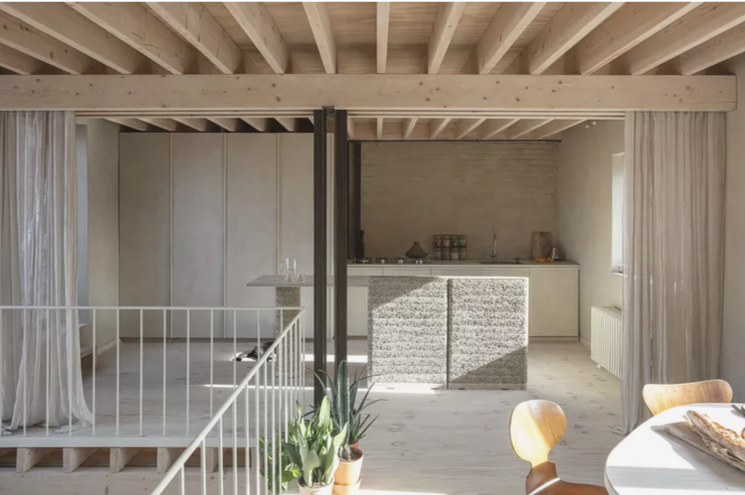 The kitchen island is made with rammed earth, resulting in a unique design that is naturally tactile and durable.
The firm's low-tech approach meant carefully selecting materials that were either locally sourced or recycled in some way. The roof extension is built in a timber frame structure with exposed beams. Straw bales from a nearby farm were chosen as the insulation material. Clay plaster and rammed earth from the waste soil of Brussels building sites are used for finishing. Second-hand recycled products add character and prevent additional emissions from new materials.
The designers hope that the project sends a clear message about how simple materials and techniques can be used in urban projects as well. By using bio-based materials as much as possible, instead of conventional construction materials, the building has a very low ecological impact and provides a healthy and pleasant living environment.
You can read the original article at www.treehugger.com