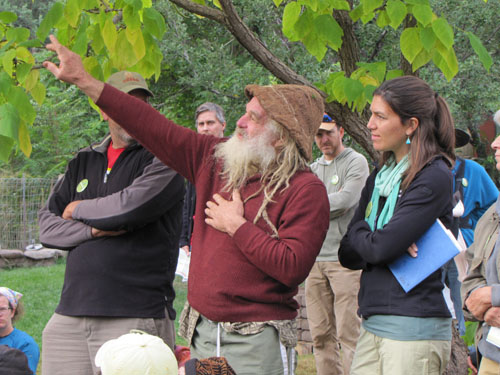 During one of the early morning circles Sunray Kelley pointed up the hill to a group of trees and explained that he would be building a tree house there and that people were welcome to join him in the project. It didn't take him long to attract a group of helpers willing to go around scrounging structural elements for this.
Sunray is a well known character around previous colloquia and a famous artist/builder in his own right. He grew up in the woods of Washington State and still resides on the family property, where he gleans material for most of the building that he has done there. I have never seen him wear shoes.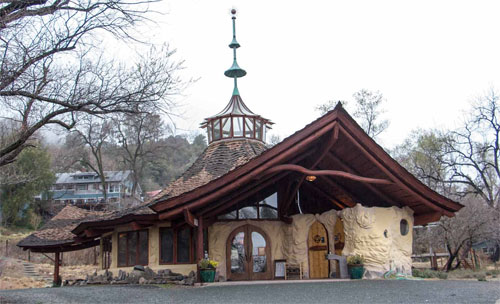 One of his better known projects was a temple at Harbin Hot Springs in California. This lovely example of Sunray's artistry unfortunately burned to the ground in the recent wild fire that razed much of that historic site.
Sunray's approach to building this tree house was rather spontaneous, just following some sort of vision that he had in his mind. I think that much of his construction proceeds in a similar manner. He directed the whole process and it happened quite smoothly, with volunteers attaching parts as needed.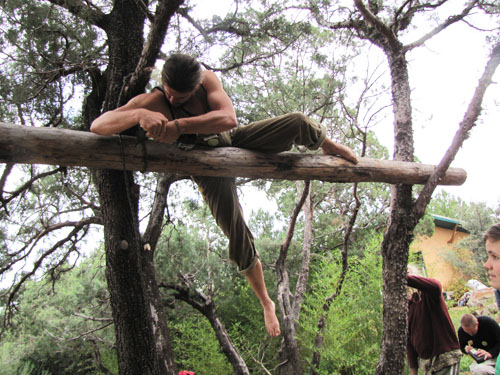 Some of the construction required deft acrobatics to accomplish. Many of the support beams were attached to the tree with hefty longs screws that could be driven with a battery operated driver. Occasionally Sunray would use a small electric chain saw to get a better fit.
For a roof some long live edge thin slabs were cut on a local band saw and these were overlapped as seen in the background. The concept behind this tree house was mainly as a play structure, so no attempt was made to thoroughly enclose it from the weather.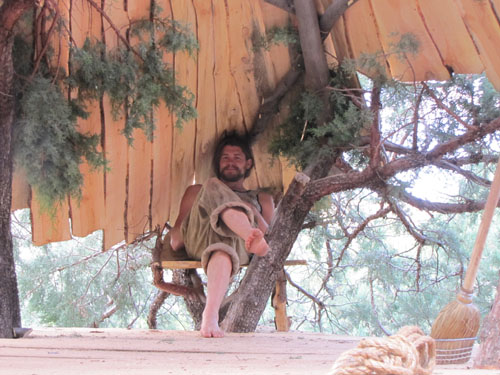 A built-in seat was fashioned in one corner of the little house.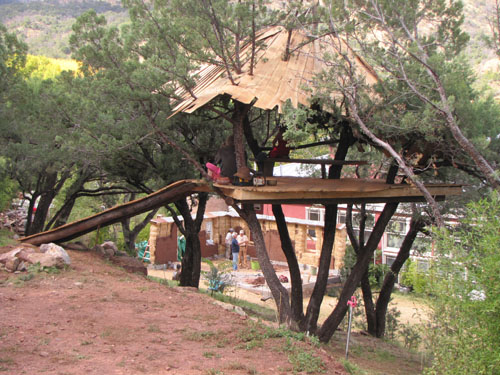 From a distance the tree house really fit into the landscape without disrupting the form of the trees. A long ramp from the hill above provides access and tree branches protrude through the roof. There is an open skylight at the apex of the conical roof.
The tree house became a favorite place for both kids and adults to spend some quiet time away from all of the activity at the Colloquium.