Manisha Lath Gupta was certain that she did not want to use concrete for her home in the Chandigarh region of India.  Jitesh Malik is trained as an architect, artist and a landscape architect and thrives on experimenting with materials. He is committed to integrating the indoors and outdoors in artistic ways and that is exactly what he did at Manisha's farmhouse. She wanted a home that was sustainable, energy-efficient, aesthetic and comfortable.
Malik's experience in Auroville helped as he brought with him a wealth of expertise about earth architecture. "Versatile and viable, this humble material allows for extraordinary diversity in the way it can be used. Earth enables sustainable living with breathable walls and the ability to regulate temperature, humidity, and noise naturally. We chose rammed earth for this project because it has the flexibility of concrete, is cohesive, which lessens the chances of cracks, and provides high heat capacity," explains Malik.
They did what is called a jar test to see if the earth is suitable in terms of its composition — that is if it has the right balance of clay, sand and silt.  They adapted the process by replacing cement as a stabilizer with locally sourced lime to great success.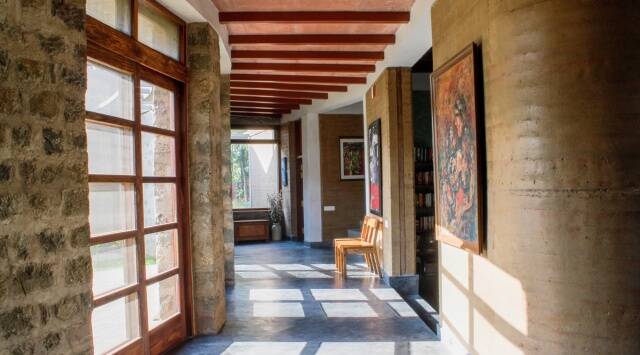 The farmhouse has shallow brick domes in the living room and bedrooms. There is a madras tile roof over the family den, a wooden roof over the dining hall, and earthen pots embedded in the kitchen roof. While most walls are made using rammed earth, the house also has stone gabion walls. There is also a wall that embeds empty glass bottles in it, creating a beautiful texture and subtle filtering of light into the space. The house is a repository of sustainable building practices and materials, and all its various parts are tied together visually and structurally by an upper beam that also serves to make the home earthquake-resistant.
The home is designed on five-acre farmland and faces a seasonal pond. Malik has skillfully integrated the built spaces with the landscapes outdoors, creating enclosed outdoor spaces, small gardens and outdoor seating—all the while ensuring natural light and excellent ventilation into the built rooms.
"Sustainability for me is not just about the material; it is not a mental idea. It is not complete unless there is a deep connection, unless you are connecting a place deeply to a practice. It is not about changing the world; it is more about changing oneself. It is about really looking at the context—of people, of who we are and of how we are impacting our environment," sums up Malik.
You can read the original article at indianexpress.com