I have recently noticed several articles claiming that a much greater use of wood for constructing urban buildings, rather than more industrial products, such as steel and concrete, would make a major impact on sequestering carbon, and thus help mitigate climate change. My first thought when I hear this is, "What about the affect of this on our heavily taxed forests? Wouldn't this put more strain on a logging industry that is already conducted unsustainably?"
In an article titled Wood Buildings Could Combat Climate Change, Study Finds these claims are made:
New research from Yale indicates that the use of engineered wood in urban construction could help cities absorb excess carbon from the environment. This collaborative study from Yale's School of Forestry and Environmental Studies, the School of Architecture and colleagues from the Potsdam Institute for Climate Impact Research in Germany modeled the effects of building materials on carbon emissions and storage. They found that timber products have the potential to turn our buildings into carbon sinks.
"Natural carbon sinks such as land ecosystems and oceans have been able to offset anthropogenic emissions of carbon dioxide for decades, but scientists were never sure how long this absorption capacity [would] persist because of a changing climate," said Galina Churkina, Potsdam Institute researcher and the study's co-author. "So, [we] started looking for other options to store carbon on land."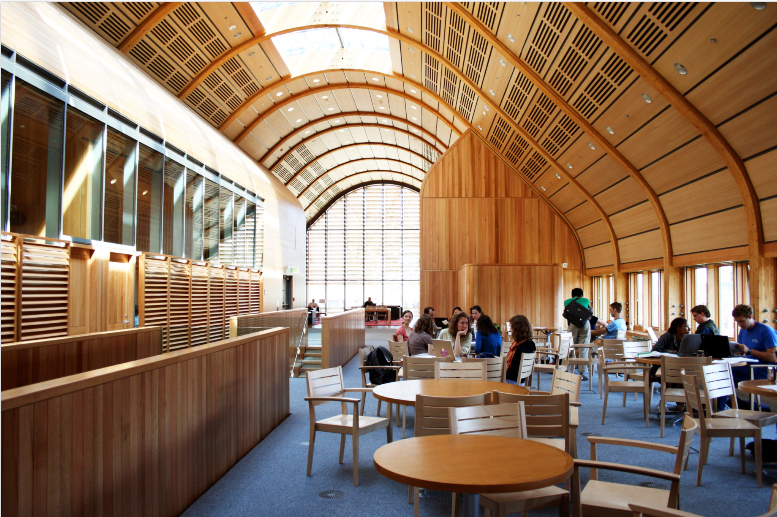 The study's findings show how wood buildings can function as carbon sinks, where the material removes carbon from the air and stores it, thus helping to offset the excess carbon produced in urban areas. According to Potsdam Institute researcher and co-author Christopher Reyer, since the world's population is increasing, climate change mitigation efforts will be challenged by people's need for shelter.
"For cities and urban areas we already know that climate-friendly building will be important," Reyer said. "If the buildings can be an additional carbon sink, they are part of a bunch of larger scale solutions that [reduce] emissions."
It is estimated that by 2050 the development of new infrastructure for the world's growing population will consume 30 to 65 percent of the remaining carbon budget allotted to keep the global temperature increase to 2. The researchers forecasted how a switch from traditional building materials, such as steel and concrete, to engineered wood would reduce the global emissions produced during the manufacturing process as well as the carbon storage potential of each. Depending on the level of commitment to this building approach, cities could increase their carbon storage by 25 to 170 percent, it said, which will help climate change mitigation by 2050.
Co-author Barbara Reck, a senior researcher at the Yale School of Forestry and Environmental Studies, explained building with engineered wood will not increase the level of fire risk when compared to other materials. "This cross laminated timber has a critical mass that makes it char on the outside while retaining a cold core," Reck said. "You will not have a sudden structural failure that you might have with steel, when exposed steel beams may melt and possibly collapse."
Reck also pointed out that building with engineered mass timber products will be faster and cheaper since parts are prefabricated. Switching to timber products, however, will require careful protection of forests.
"[The new system] needs a tight coupling of sustainable forest management and sustainable governance that sets the rules, criteria and indicators to support increased building with timber," Reyer said. "It is important to note that our analyses exclude protected areas as a source of wood, yet to fully implement our proposal, more work is needed to understand and quantify the risks to global forests."
Currently, the building and construction industries are responsible for about half of all steel demand globally.
At least they admit that there would be a challenge in providing all of this wood in a sustainable way. I frankly have my doubts about this happening, given the track record that the logging industry has worldwide. My fear is that going in this direction will only exacerbate the incredible loss of forest coverage that is already happening.