From www.raglan.net.nz:
Want to know more about greener building techniques? Solscape Eco retreat at Manu Bay, Raglan are running an earth bag building course workshop from 16th-30th March. Read on to learn more about earth bag building. From the Raglan Chronicle, October 2009, by Edith Symes:
It looks like a teletubby house, or maybe a mud igloo, but an intriguing "earthbag" building that's taken shape at Solscape eco-retreat at Manu Bay over the past few weeks is no frivolous venture.
The building, one of only three so far in the country, is being touted as an exciting possibility in the search for affordable housing. It's both "low cost" – about $2000 for the materials – and "high performance", accommodating two to three people.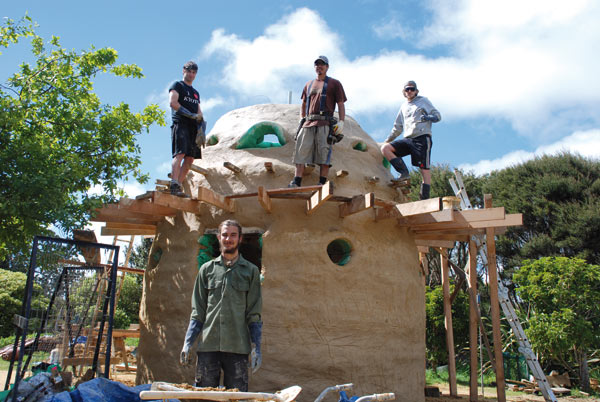 The novel construction is the result of an earthbag building workshop which has kept both locals and foreigners busy, in rain and shine, at Solscape for the past few weeks. By late last week the 10 square metre sleepout, which has the huge advantage of needing no permit, looked all but complete with its thick earthen walls ready to be earth plastered, and rounded window spaces fashioned from a recycled gas bottle.
"Heaps of people have been coming to check it out," says Solscape's Phil McCabe who's been heavily involved in the workshop himself. Phil first saw the unique design at the ecoshow, and arranged for the local workshop as a way to experiment with one possible technology for alternative ways of living.
"This is a great possibility for affordable housing or papakainga (Maori using land)," he enthuses. "It's about using not a lot of cash but a lot of human energy." For instance, about 20 cubic metres of earth was first dug out from a nearby hillside. "It was good hard work," says Phil, pointing out that about 95 percent of the "very simple" materials used – earth, hydrated lime, recycled paper fibre and cow dung – are locally sourced.
Using minimal cement, very little transport and absolutely no processing and packaging, the earthbag structure represents what Phil describes as "low embodied energy" which fits in neatly with Solscape's eco philosophy. Another earthbag building is planned on site, possibly next year, close to the first one.
The buildings have the added advantage of using no cut trees and no nails except in the construction of this first one's mezzanine floor, adds Phil. While tutors Bryan Innes and Bomun Bock-Chung led the Manu Bay workshop, Phil reckons anybody with a bit of building experience can do it for themselves. "It requires only one person with some understanding (of the process) and others can turn up and lend a hand."
Similar to a rammed earth house but without the heavy plywood structure, the dome-like earthbag building relies for its form on 500 metre polypropylene tubes , of the kind stock feed bags are made of, and uses nothing else except barbed wire and raw materials. The tubes are stuffed with a dry mixture of earth and cement. No water is added because enough moisture comes from the soil in the mix, explains Bryan who's right into sustainability education. Of the 50 or so cylindrical layers or "courses", adds Phil, only about 15 have cement content. The rest are stabilised with a dry sand mix.
The earthbag system was designed by a Californian company called Cal Earth but only the tubes are new, says Bryan. Similar domed buildings have been around for hundreds of years and have the structural strength of an igloo, which also uses the same material for its roof as its walls. Others have been built for emergency shelter in such places as Iran.
But earthbag buildings are "better than bomb shelters", Bryan says, because they're designed to work with weight, using the rammed earth cylinders with barbed wire between them. And they'll last "forever".
For information about the next course running 16th-30th March contact Jo on 021 739 398 or email joATecoshow.co.nz