Intrepid earthbag researcher and advocate Patti Stouter sent me this remarkable photo taken in Nepal. She says, "I just got this photo from someone who helped build about 500 earthbag houses in Nepal after the quakes. This heavy truck had an accident and rolled off an adjacent mountain road and onto the roof of this building. The result? There was virtually no damage to the house other than the truss system. Not a vibration test, but the impact must have been significant.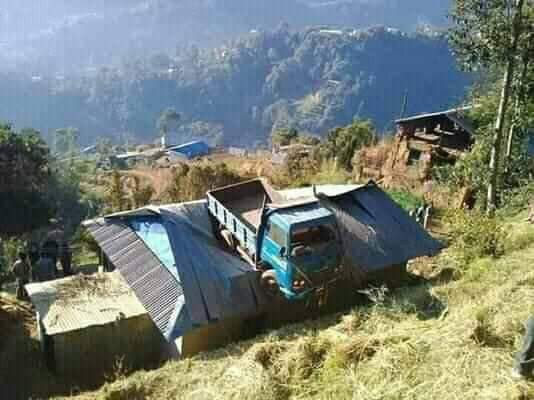 Patti continued, "Most of their one story plus loft houses included rebar inserted between 3 vertical pinning rebar at each corner, and inserted rebar spaced in the walls. They used strong cohesive fill soil, and strong welded metal tube window and door frames. The loft floor was a diaphragm welded of metal tubing also. I think we're close to establishing why earthbag resists quakes. I've got a report that clearly shows the strength of normal inserted rebar walls."
My intuition about the reason earthbag technology holds up so well to seismic disturbances has mostly to do with its inherent resilience. The matrix of bags, barbed wire, vertical pinning, plaster mesh, and plaster, and the fact that the fill itself has some give if necessary, just allows the building as a whole to flow with, or absorb, the forces and not disintegrate into fragments.