I just got a nice update on what Ed Konderla has been up to in Ecuador, first building an earthbag house and then a guest house:
The location is in the Andes Mountains, Southern Ecuador…  very seismically active which necessitated a robust construction technique. The earthbag construction has been the way to go for me. The main house has about 1100 sq. ft., one bedroom, one bath. The earthbag construction answered a real problem I had with the first house. We have about 16 acres with about 1 sq. ft. that is reasonably flat. That is a bit of an exaggeration but not much. For the ultimate view there was a very specific place I wanted to build but it was shaped really weird and was long and narrow. I looked at like eleventy billion floor plans but nothing really worked. So one day I just said screw it and plotted out a foot print that met all of my criteria and let that be the shape of the house. Probably one of the weirdest shaped houses ever. Due to earthbag lending itself to curved walls, being seismically durable and using local materials it was my choice although I still have never seen another earthbag house other than the one I built.
We have lived in it now for basically 4 years and it is the most comfortable house ever. Although we live about 200 miles south of the equator being at 8400 feet makes it is pretty cool all year round. Our temp averages about 70 degrees for a high and 50 for a low 365 days a year. We have about 7 months when it is dry as a bone and 5 months with a lot of fog and rain. The house is always comfortable regardless of what we get. I hated to hear about Owen. I did a lot of "innovating" on the first house and having Owen to bounce things off of was invaluable.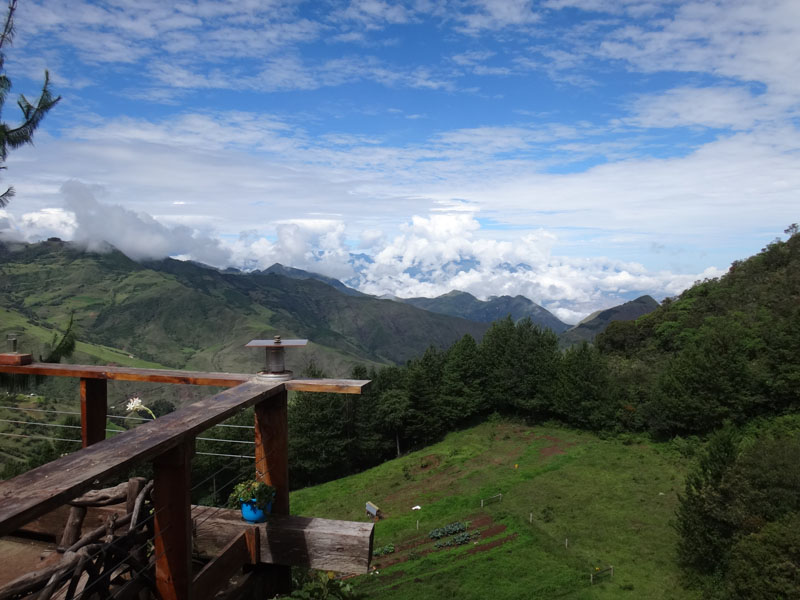 It's still a killer view even when you can't see the ocean. It is hard to explain how rugged, steep and hilly the terrain is around here. When we purchased this farm what we bought was a view. From my deck at the main house you can see the Pacific ocean 53 miles away on a clear day.
It's funny but we have a really nice 4 bedroom house in Cuenca that we spend about 3 or 4 days a month in. The rest of the time it is out here where our neighbors still plow with toros, ride horseback and have very little material wealth compared to what we have in the states. I haven't been back to the states in 8 years not because I dislike it; I just like this a lot better. When we have left we have gone to Italy or Ireland or the Galapagos Islands. Life's a bitch. This year Patagonia is on the menu.
The guest house has about 490 sq. ft. interior space not including the second floor/deck. Here are a few points about our process and decisions on our guest house:
In some photos you can see the original earthbag house on the hill above the guest house which the exterior has yet to be completed
The location from the house had to be dug out of the side of a hill by hand
 The floor plan stays pretty true to Owen's Hobbit house.  No stairs on the inside and has a concrete roof/second floor.  The second floor will primarily be left open with a small laundry room, pantry and my very large and heavy wood lathe.   Otherwise it will basically be an open deck.
The ceiling/roof uses a steel product called Novalosa, rebar, reinforcement wire over 1 inch pine boards with a large eucalyptus center pole
The tile floor is earthen cement with tiles cut out by hand.  Grout is cement grout.  In the process of sealing with boiled linseed oil.
The interior walls are constructed of cinder block with traditional plaster.
The earthbag walls use earthen plaster.  Although the earthen and plaster wall color may appear coordinated that was just serendipity.  There is no paint on anything.  Sometimes you just get lucky.
This guest house is still very much under construction primarily by myself and one 23 year old neighbor; I am 64. My background is automation engineering and woodworking, his is primarily subsistence farming. For specific large projects like pouring the concrete slab I hired additional help with more construction experience but I would say 85% of this has been done by David and myself.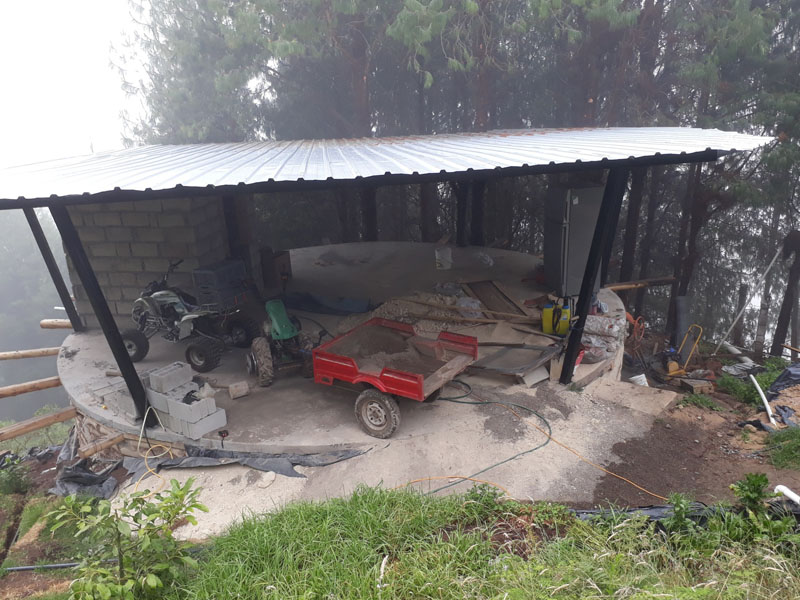 This is a good shot. Got the 4 wheeler, my two wheel tractor and trailer parked on the roof. The refrigerator is destined for the kitchen down below once the floors are finished. Also a good shot of the utility room where the washer and dryer are located. Original big house had no utility room.