Western Solar has completed three innovative housing projects using a special low-energy design that was pioneered at Wales' first solar village in Glanrhyd, Pembrokeshire, in 2017.  There are a range of projects to develop new solutions to the climate crisis and the urgent need for affordable public housing.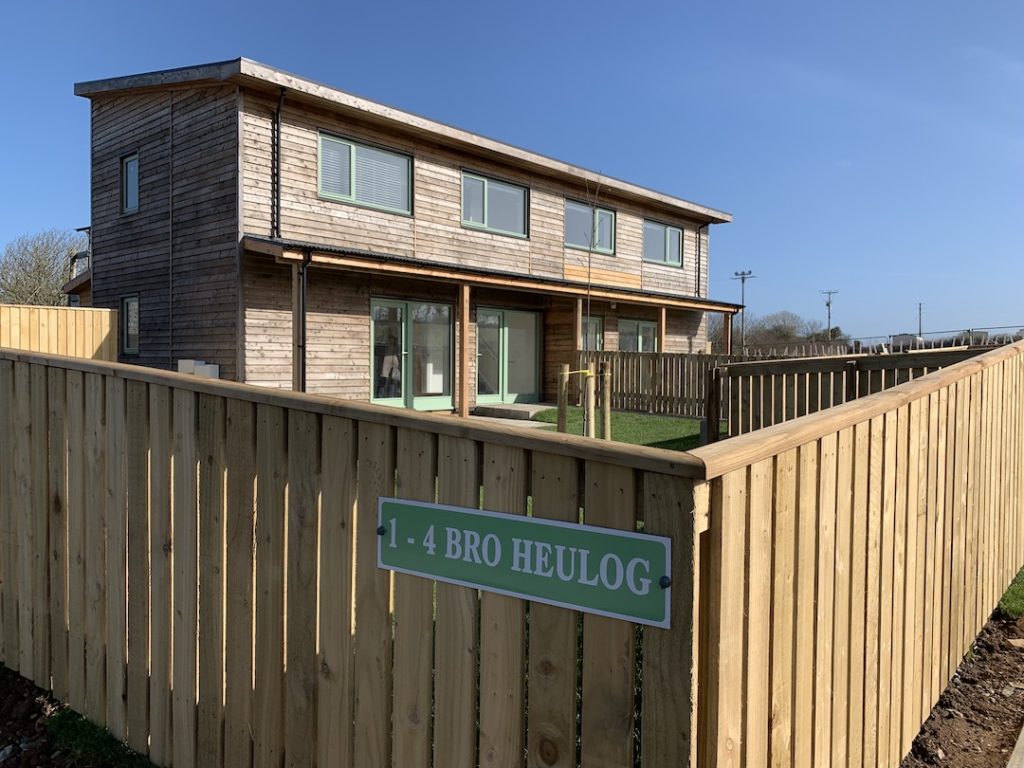 The houses use locally grown timber frames and cladding, together with high levels of insulation made from recycled newspaper – a combination that locks up atmospheric carbon in the building form.
Built on the site of a now-demolished garage, the three-bedroom homes occupy 100 square meters, the two-bed ones slightly less, but still feel spacious.
"It has been difficult to persuade local authorities and housing associations of the benefit of backing this design, despite the fact that occupants have virtually zero energy bills. The key performance indicators imposed on housing associations are unduly skewed towards capital costs rather than tenant and community welfare," a company spokesman says. He is hoping that when he has occupancy data to back up his case, more housing associations and councils will be interested in the model.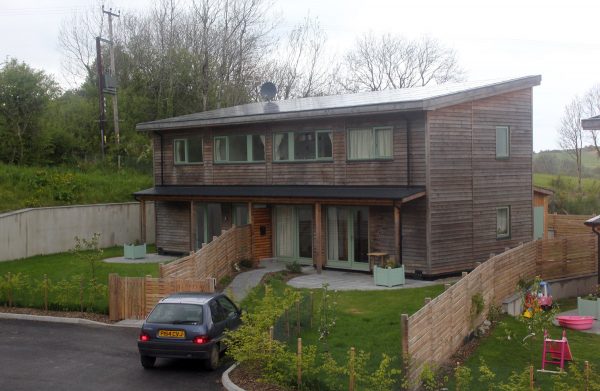 The timber frame houses are built according to passive house principles. Each roof has 8kW of integrated photovoltaic panels. Over a year these generate surplus energy, providing an income from a feed-in tariff, as well as giving the occupants free electricity. Beneath the solar panels is a galvanized steel sheet that laps over the timber frame.
The windows are double, not triple-glazed, to keep costs low as they believe that the incremental benefit of the extra pane of glazing is cancelled by the cost in the mild local climate.
The insulation is all recycled newsprint which is in general the most economic and ecological. The paint is clay-based – breathable and with no off-gassing. Although more expensive per liter, it requires fewer coats on bare plaster.
The houses all come with the most efficient appliances and an outside socket for charging an electric vehicle. The occupants of the estate have been given a Nissan Leaf to use collectively, charged by the solar panels on the roofs. "It's a way of getting neighbors to cooperate with each other and eliminate the need for a second car," a spokesman says.
The South-facing homes are generous in their space, their form determined by the maximum depth allowed by the passive heating. The rest of the heating is provided by using the best of old technology with new: solar electricity and storage heaters. Storage heaters contain thermally massive blocks that are heated up by an element. They then release that heat gradually over many subsequent hours.
The homes are also grid-connected and export surplus energy when there is some – after the electric car and storage heaters have been topped up – and purchase it when not enough has been generated. The prototype house has been monitored and has well exceeded the predicted generation capacity, providing twice the electricity used over the year.
You can read the original article at www.thefifthestate.com.au