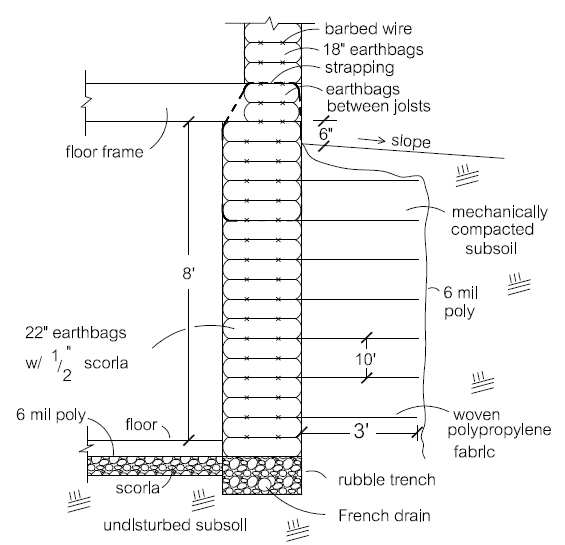 This article describes a low cost method of building insulated basement walls without concrete, using geotextiles. Typical basement walls are expensive and use large amounts of concrete, a major contributor to global climate change. Concrete basement walls are typically built by contractors, because they require expensive forms and specialized knowledge. Plus, in cold climates they require insulation to reduce heat loss. Rigid foam board insulation is most commonly used to insulate basements, but this unfortunately has an environmental toll. All these things lead to expensive, energy intensive basement walls that strain the environment. Obviously there's a need for low-cost, more sustainable alternatives.
The earthbag/geotextile basement wall system described here has excellent potential to save on initial construction costs and long-term energy costs. And again, no concrete is used. However, this system is experimental — none have been built yet. Even though it is untested, the basic concept utilizes well proven geotextile retaining wall technology. The same principles have been used to build retaining walls along roads, highways and elsewhere for decades. But no one to my knowledge has used this technology for basement walls.
You can read the entire article at Mother Earth News Blog.