If you've been reading our blogs and websites, you'll often see reference to scoria. Scoria, also known as lava rock, has numerous properties which make it a great building material. The key breakthrough for earthbag building was Kelly Hart's house made with bags of scoria. His house stays comfortable year round in a very cold climate. This blog post recaps some of the most practical applications of scoria-filled earthbags.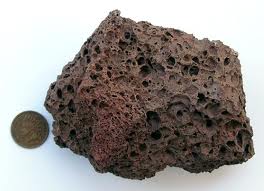 Scoria is perfect for superinsulated earthbag walls. It's low cost, all natural, rot proof, fireproof, doesn't attract pests, and is lightweight and easy to work with. Anyone can handle bags of lightweight fill material such as scoria by themselves. It's almost like handling bags of popcorn.
Previous posts have explained how to build insulated earthbag houses with scoria. Insulating Earthbag Walls with Tube Sandbags describes how to use tube sandbags filled with scoria as an outer layer of insulation. Earthbag Building in Cold Climates explains how bags can be sewn to create two compartments – earth in one side and insulation in the other. In extremely cold or extremely hot climates I would fill the bags with 100% insulation (or all earth in a hot climate if insulation wasn't available).
Earthbag foundations offer many advantages over reinforced concrete foundations and work well with many types of sustainable buildings. In particular, they are low-cost, fast and easy to build, require no cement (a major expense and cause of global warming), and require no forms or expensive equipment. Scoria-filled bags create a shallow, frost-protected foundation, and therefore eliminate the need for rigid foam insulation and extensive excavation. This one step alone could save you thousands over conventional foundations.
Earthbags are ideal for building greenhouses due to their resistance to moisture damage. When filled with insulation such as perlite or scoria, earthbag walls and foundations enable you to grow plants year-round.
Kelly Hart's free Dome Building Guide shows step-by-step construction of how to build earthbag domes. His method of using scoria-filled earthbags is the easiest, fastest dome building method that's been developed so far. Scoria is great for building domes since the aggregates tend to lock together and form stable walls that can withstand high compression loads. Tie courses together with twine for best results.