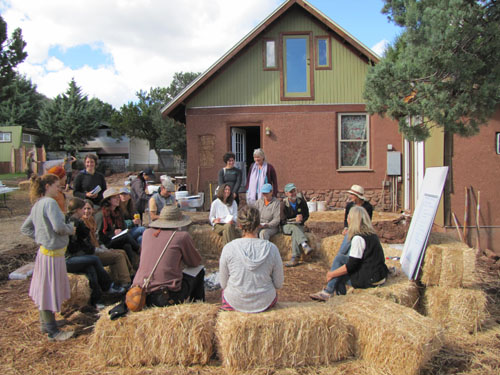 At the recent Natural Building Colloquium in New Mexico, besides all of the workshops and presentations already mentioned in earlier blog posts, there were a number of fairly spontaneous breakout groups or conversations. I participated in a couple these; one was about the future of book publishing, but the most interesting one was looking at how we can bring natural building more into mainstream acceptance. This turned out to be a three day ongoing brainstorm with up to a dozen people at each session.
Janell Kapoor of Kleiwerks International proposed this discussion and it attracted many of the seasoned movers and shakers of the natural building movement. Joe Kennedy became the scribe, keeping 9 pages of notes of comments as they emerged.
Janell suggested doing a SWOT analysis, or looking at strengths, weaknesses, opportunities and threats to accomplishing the goal of advancing natural building to become more commonly accepted practice. Rather than outline all of the collected suggestions, I will give you my opinion about these aspects.
I think that the greatest strength is that the natural building movement directly addresses many of the issues that confront humanity in terms of energy use and pollution, especially as these contribute to global climate change. The biggest weakness is the perception of the general public that natural building is substandard, unsafe, backward, too counter-culture, and even expensive. We have a tremendous opportunity to educate the masses through all forms of media that natural building can be beautiful, practical, durable, energy efficient and affordable. A major threat to realizing this are the entrenched industrial interests that often control how the codes are formulated and promote industrial solutions to housing.
What has recently happened in Nepal regarding earthbag building and how it is suddenly being accepted by both the populace and the government as an appropriate solution to rebuilding that shaken nation is a perfect example of how natural building can come into mainstream focus. This resulted from practical demonstration and media attention. These kinds of events can alter the cultural stories that are told over generations and make real change happen.
Another example of mainstream attention is the tiny house phenomenon; most everybody has been exposed to this building choice within the last few years. I think the popularity of tiny houses comes from two directions: they are adorable and they are relatively affordable. Most people want to own their own homes and a tiny house might be the answer, whereas standard housing is out of the question. When you get right down to basic motivation, economics always runs the show. We need to make natural building affordable or it will not flourish.
I think that in the end natural building will grow in popularity for the very reason that it can be an affordable way to address our housing needs with minimal energy and industrial material consumption.