Massive Rammed Earth Home in Texas
It took 2 years and 3.5 million pounds of dirt just to create the two-foot-thick rammed-earth walls of this 6,000-square-foot home designed by Lake Flato Architects for Ashlyn and Dan Perry outside of Marfa, Texas. "Part of the reason that rammed earth was the chosen construction method was due to the thermodynamic properties. Because of the diurnal swings in temperatures—cold nights and warm days—the mass of the walls allows for moderating the temperatures," Ashlyn explains. "There's something about the rammed earth that gives it a texture that is suited to the Chihuahuan desert in a way that I think is pretty interesting and unique. It's the soil, the ground that makes up that beautiful rolling plain that is the Marfa landscape."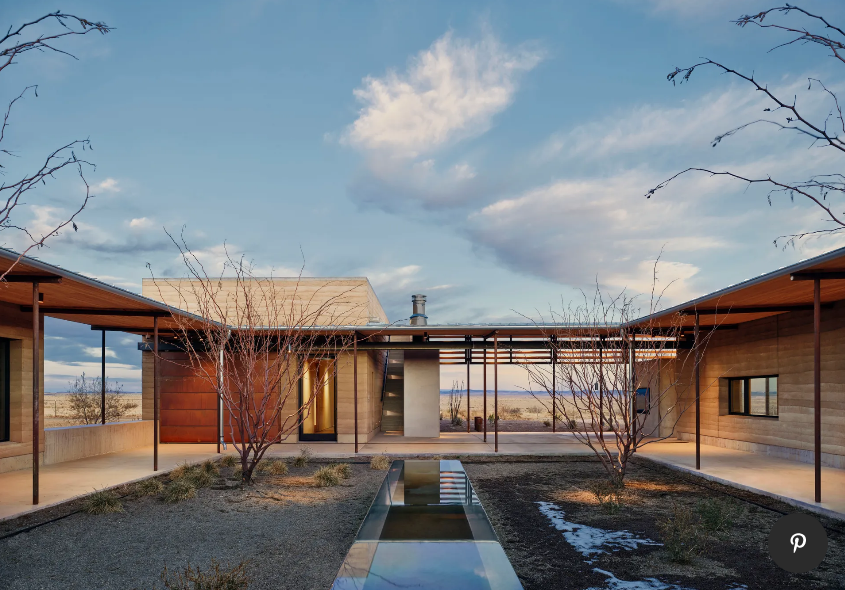 In total, eight structures were constructed using this method, and, for the most part, each is its own room. They include a mechanical room, an office, gym, guest suite, guest wing, art studio, combination kitchen, living and dining area, and the primary bedroom suite. The structures are set around a courtyard, connected by a covered porch above and breezeways below, which are also used to access each room, as they're not interconnected. The placement of these structures and every single window was designed to take advantage of the unobstructed views of the surrounding desert landscape and nearby mountain ranges while simultaneously sheltering from the often harsh weather that is characteristic to the region. The raw-steel pipes set vertically around the perimeter are the exact types used to make cattle pens and fences and were specifically chosen as a nod to the ranch heritage of this area. Stairs, to the right of the primary bedroom entrance, lead to a rooftop area with expansive views of the surrounding desert and mountains.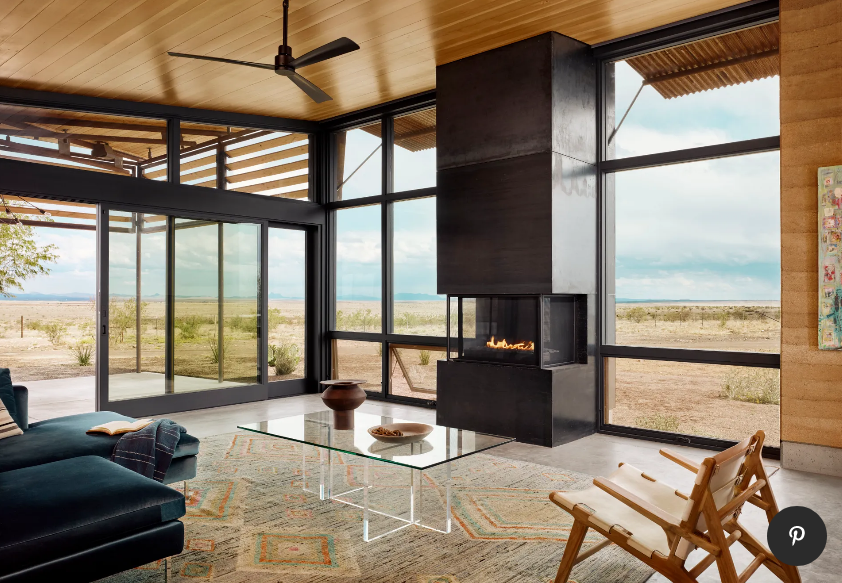 The "dream project," in Ashlyn's words, was finished last year. With its low profile and use of natural materials from the earth, it stays true to the architect's intention to "create a home that has been inserted into the untouched desert landscape without disturbance. . . it almost feels like a natural part of the desert itself." The living room is one of the few spots in the home with floor-to-ceiling glass windows, because, Harris says, "We wanted this space to open up toward that horizon on the east and the south with views of Cathedral Peak and the Haystacks, which look remarkable in the landscape."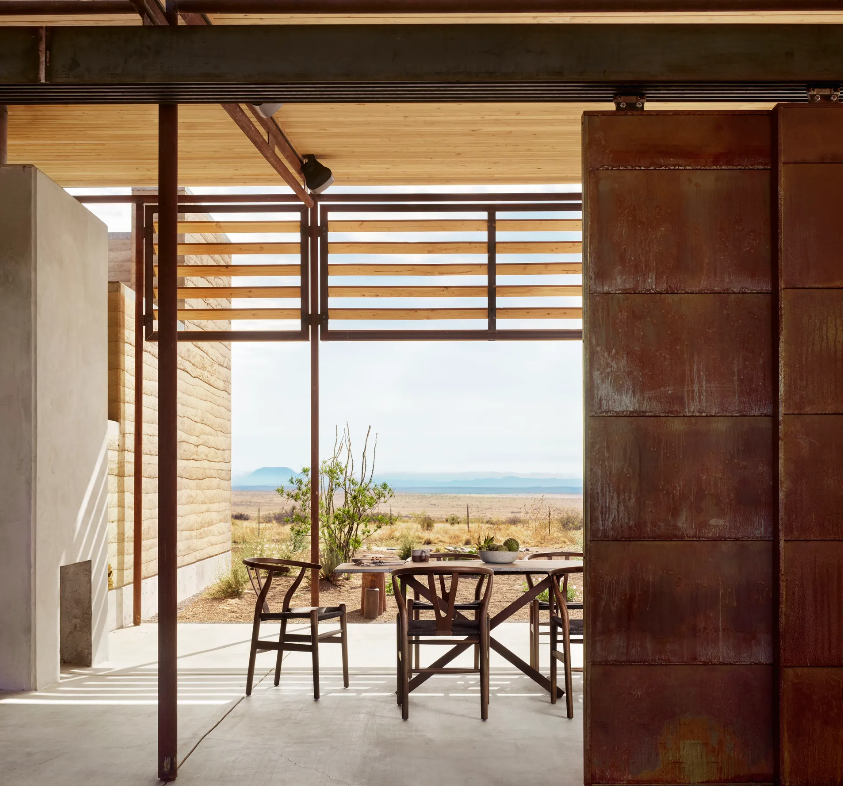 Plentiful outdoor spaces include both dining and living areas, with fireplaces and, in the case of the living area, an outdoor TV. A raised slatted wall creates a "dappling of light" that mimics the shade of a tree, allows just the right amount of light to filter through.
A monolithic gas fireplace separates a library area from the entertaining space in the couple's bar room. Douglas fir clads the ceiling.
Steel shelving was set into the rammed-earth walls. The architect explains: "when the guys built that, they had to erect the [rammed-earth] forms, have this long, linear steel box attached to the form inside, and ram the earth around it as they went. It's a tricky thing to do and requires a very high level of craftsmanship. It turned out beautifully."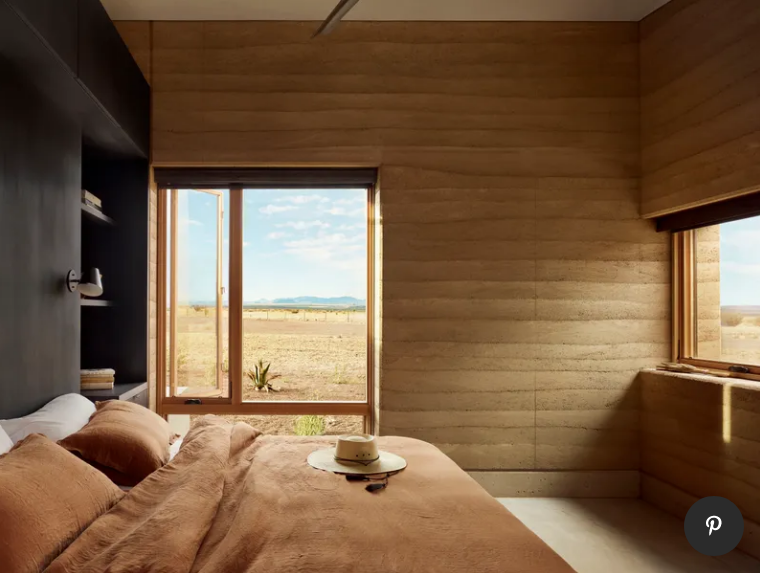 "I find that I sleep really well here, and I often wonder if it's the thickness of the walls, the grounding of the earth, or the just the vastness of the landscape," Ashlyn notes. "It does something. You can really relax your mind."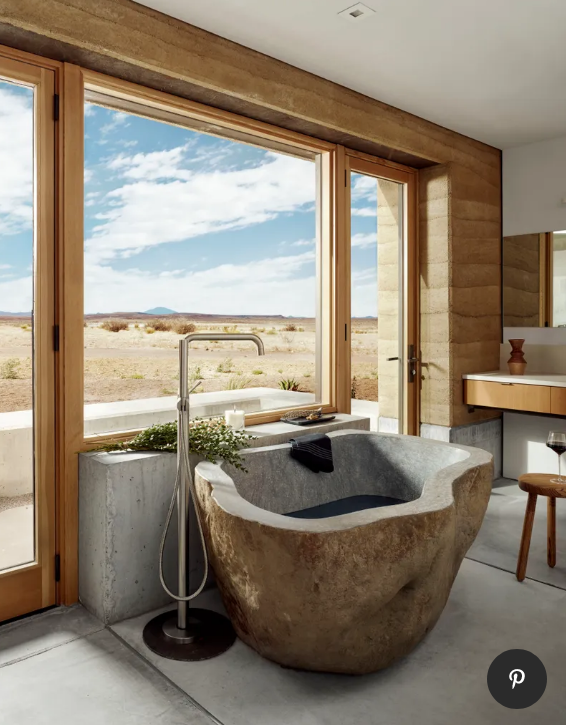 The sculptural boulder-like bathtub that looks like it might have been discovered in the general Marfa environs had to be craned into the primary bathroom through the window.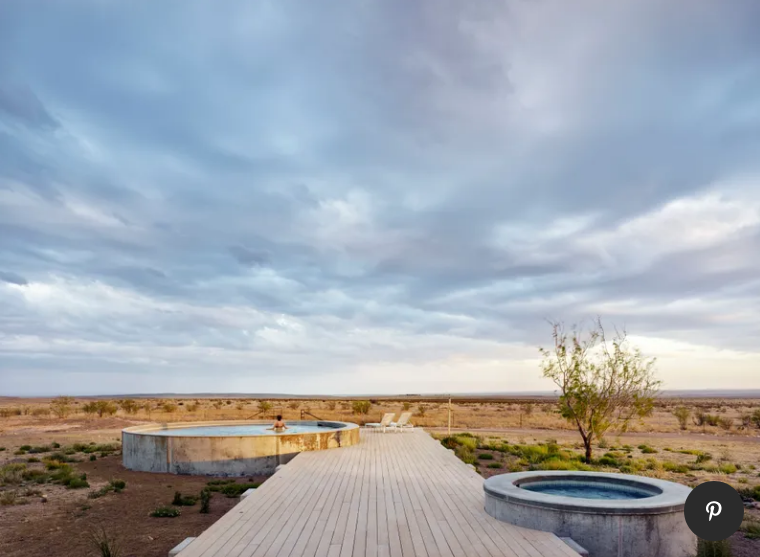 An old water cistern, about 22 feet in diameter, was the only structure on the site when the Perrys bought it. Now refurbished and turned into a pool, it features a built-in seat that runs the full circumference, so anyone taking a dip has a spot to relax and take in the gorgeous views, especially at night when there are "trillions of stars."
The original article can be read at www.architecturaldigest.com