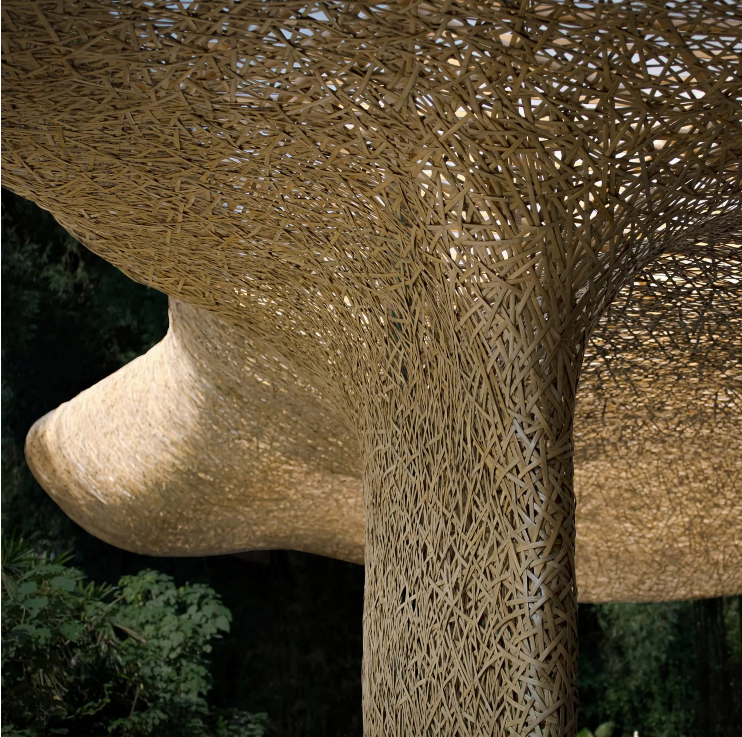 Bamboo strands are hand-woven to form this 140-metre-long canopy sheltering visitors of the Impression Sanjie Liu light show on an island in Yangshuo's Li River. A number of spherical pavilions designed to resemble lanterns are finished in the same latticework and supported by load-bearing bamboo lengths that were soaked and scorched so they could be bent into shape.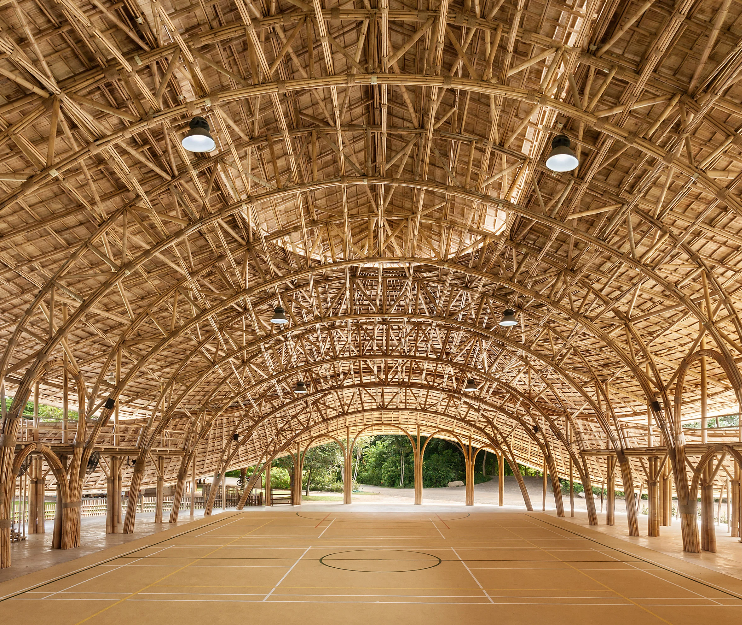 17-metre trusses were fabricated on-site and lifted into position with a crane to create a sports hall for Thailand's Panyaden International School on the outskirts of Chiang Mai. An open lattice structure eliminates the need for air conditioning. This building absorbed more carbon in its materials than was emitted through its construction.
This pavilion in Taichung, Taiwan demonstrates how the low-carbon building material  can offer a more habitable environment to our next generation. Its structure is formed from thick, hollow rods of Moso bamboo that are connected via smaller interlacing Makino bamboo segments.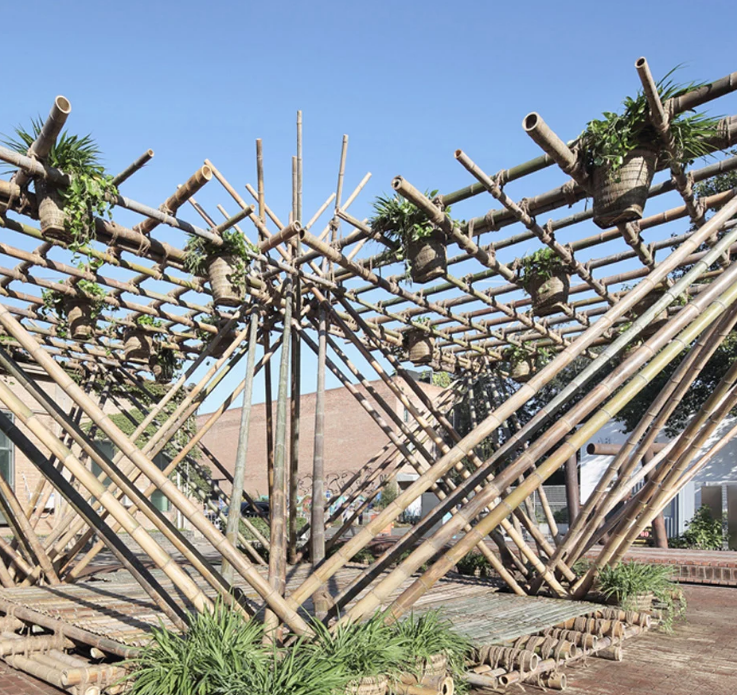 The Rising Canes pavilion was developed to showcase modular bamboo construction, which could be used to form emergency housing, portable hotels and even an entire sustainable city for 200,000 people. Exhibited at Beijing Design Week, the prototype sees vertical and horizontal stems connected via X-shaped joints of the same material to create interlocking building blocks. These could be expanded in every direction, allowing architecture to grow with its inhabitants.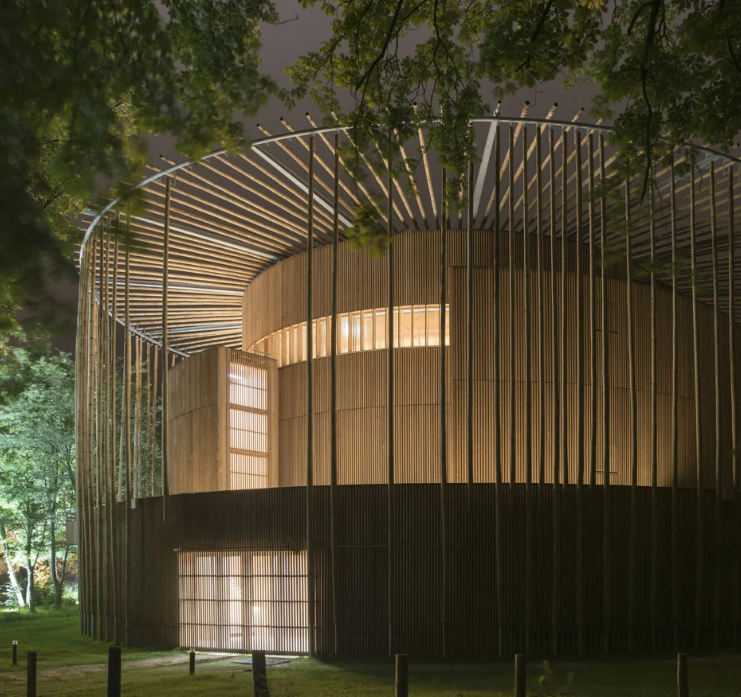 12 meter high poles of bamboo encircle the cylindrical Hardelot Theatre creating a cage-like exterior and a radiating pattern that emanates from its roof. This structure was designed as a homage to Shakespeare's Globe Theater.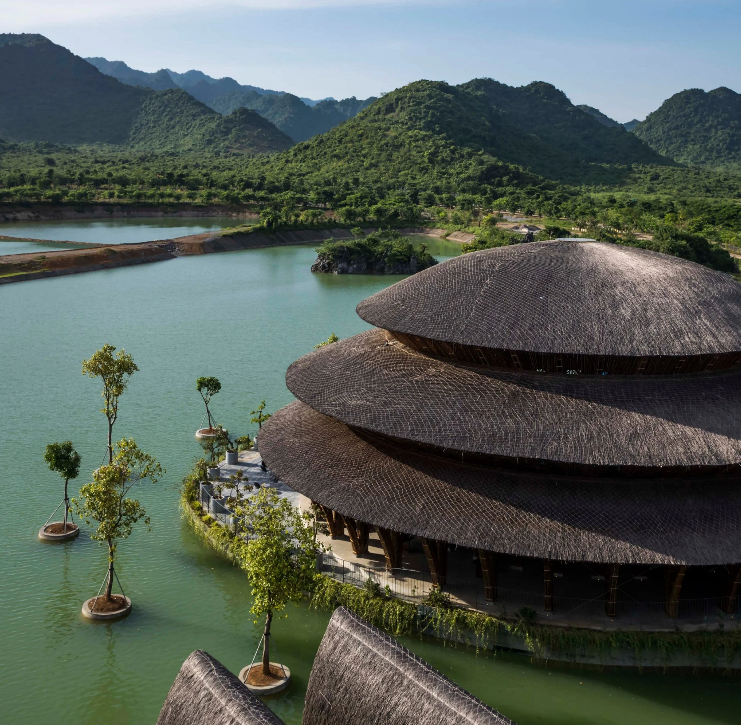 The roof of Vedana Restaurant is a single structure formed from 36 bamboo modules. This is revealed only on the interior, where the intersecting rods are left exposed and form a spiraling mandala pattern across the cavernous ceiling.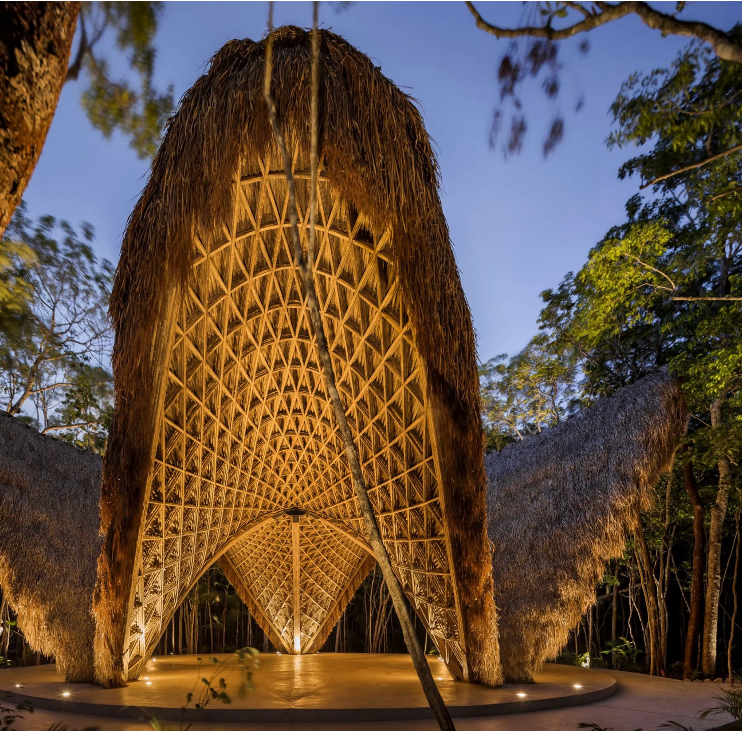 Luum yoga studio in the jungles of Tulum is formed from five arches woven together by a structural triangular pattern and bound by two layers of lattice to create a structure that is able to resist hurricane forces.
You can read the original article at www.dezeen.com