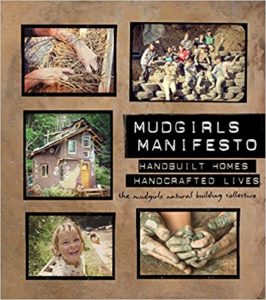 Mudgirls Manifesto
is primarily a review of the evolution of the Mudgirls Collective, a radical group of Canadian women whose philosophy is that there should be no limits to their activities based on gender or social expectation. For over a decade they have been building homes for clients using natural materials and conducting workshops on natural building techniques. They are totally egalitarian in their organization and feel that there should be no separation between family and business life, so one of the paid positions on their worksites is a child care person. They recognize how limiting current Western culture is with regard to expected roles for women and are determined to show that this view should be eradicated.
They are passionate about caring for the Earth and minimizing the use of industrial and energy-consuming technologies. Thus they emphasize the use of earthen materials, stones, straw, unprocessed wood and recycled components. They have developed a good reputation for the quality of their work and their ability to educate and empower others.
Part of the book is a brief description of how to build naturally, focusing mainly on simple stone foundations, cob, light straw-clay, straw bales and in-the-round wooden elements. There is enough detail in this section to give the reader an idea of what is involved, but not enough to embark on a major building project.


I recommend this book for anyone interested in sustainable architecture and the evolution of a sustainable culture. It is lavishly illustrated throughout with color photographs and is a pleasure for the eye.
You can buy the book at Amazon.com
There is a nice article about one of the Mudgirls, Amanda-Rae Hergesheimer, at www.thewesternstar.com