The New York Times recently published a fine article about Lloyd Kahn, the builder and publisher of numerous books related to natural building through his Shelter Publications. I have been aware of Lloyd's work since he published an article I wrote about building and living my original school bus back the early 1970's. That was in the first edition of Shelter. He also published a story about the earthbag house I built around the turn of this century in a book titled Homework. Lloyd is now in his eighties and still going very strong.
I'll excerpt a few paragraphs and photos from the Times to whet your interest, but I suggest clicking on the above link to read the entire article at the Times.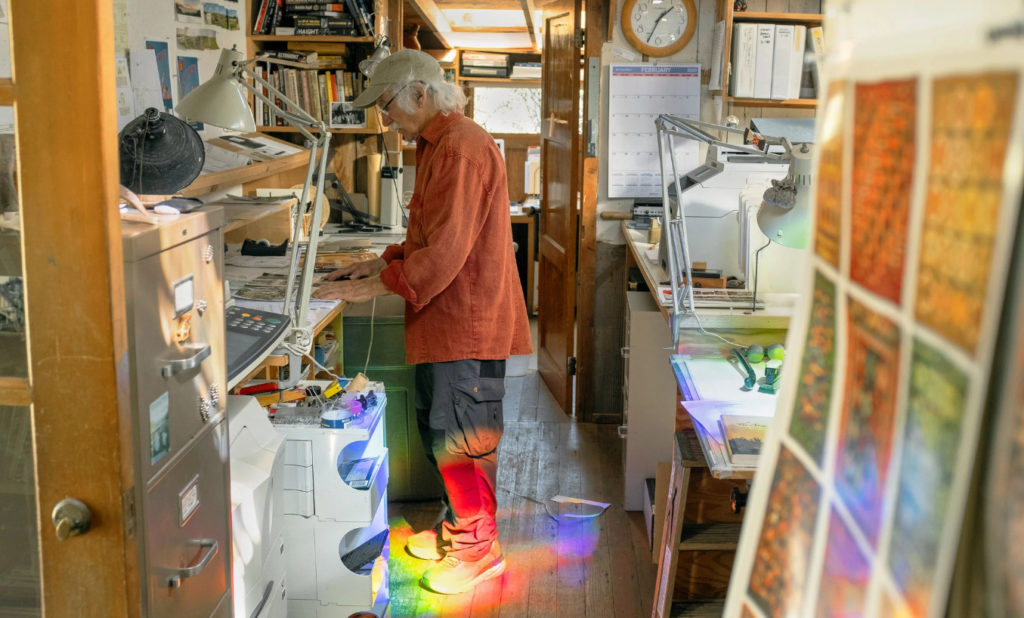 Self-sufficiency is like perfection, said Lloyd Kahn, the guru of guerrilla architecture and dean of all things D.I.Y. "You never quite get there, but you're moving toward it all the time."
For the last half-century, he has collected examples of owner-built, unarchitected dwellings — tree houses, wigwams, yurts, straw bale structures, soddies, bothies, Earthships and Gypsy caravans — in books like "Tiny Homes on the Move," "Builders of the Pacific Coast" and "Home Work." All of them were assembled by Mr. Kahn in the headquarters of his company, Shelter Publications, which is also housed here on the property in a sky-lit workshop. (It's built from lumber recycled from old Navy barracks, with windows harvested from chicken coops.)
Poetic and practical and laid out in an agreeably jumbly zine style, "Shelter" was a world tour of vernacular habitats, as well as a social history of hippie housing that proposed a new world order. This handbook for the utopian-minded libertarians of the '60s and '70s has continued to inspire new generations of back-to-the-landers, along with the anti-consumerist adherents of Europe's "degrowth" movement and, recently, the tech bros of Silicon Valley. As the world unravels, the practical lessons and homespun philosophies of "Shelter" are more urgent than nostalgic, drawing pilgrims to Mr. Kahn's still-groovy abode.
Sprouting from the main house was a hexagonal tower, a vestige of an early experiment in geodesic dome living — "circle madness," as Mr. Kahn put it — of which he was an early booster, and then passionate renouncer. In 1971, Life magazine touted him as an exemplar of that particular counterculture. "In an ordinary square house," Mr. Kahn was quoted as saying, "vitality just sits down and dies in the corners."
In the '70s, Mr. Kahn said, you could find redwoods floating in the ocean, escapees from logging operations up north. He would ride them with a kayak paddle at high tide and drag them to the beach. After hauling them home, he'd split the wood into shakes for cladding. Windowed doors came from dumpsters in San Francisco, and flooring came from a school gymnasium there.
He hopes his new book, The Half-Acre Homestead: 46 Years of Building and Gardening, out this month, will have broad appeal.