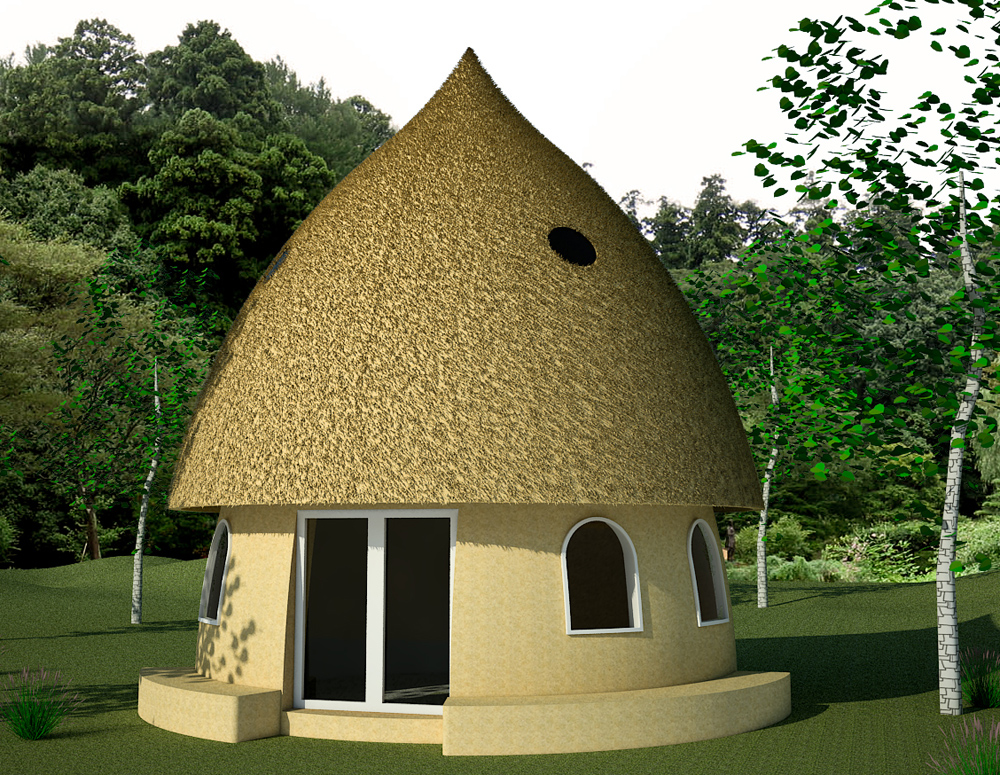 Roofed domes are a very practical alternative to plastered domes in rainy climates. Plastered domes are vulnerable to roof leaks, and require rather extensive waterproofing and maintenance. Thatch can be very inexpensive in some areas. The thatched roof on our roundhouse, for instance, was only $100 for materials. This type of thatch typically lasts for 3-4 years; some types last much longer. Even if thatch is more expensive in your area, it's something to consider due to great looks and natural cooling properties.
Domes often overheat in hot climates (especially where night time temperatures don't cool off) and can suffer from inadequate ventilation. This crucial information is not widely known and is a frequent cause of problems. But this thatched roof design has an air space between the dome and thatch to keep the dome cooler as well as provide enhanced protection from rain. Thatch panels are recommended for ease of installation and replacement. The panels on our roundhouse (which is about the size of this dome) were installed in one easy day. The bamboo spine enables them to be bent into curves.
In addition, the upper area of the dome could be built with ferrocement to speed construction. This would save moving a lot of heavy soil high up on the dome. Some may also find this method simpler that enclosing the dome with earthbags. A good sized opening on top in the ferrocement would significantly improve ventilation over typical domes. Alternatively, you could also build with bags of lava rock/scoria. (Compare the scoria photo with what's available in your area. It goes by different names. You want the lightweight, porous material.)
I'm playing around with different roofed dome possibilities for our next year's earthbag workshop. We may do something similar to this but use wood shingles. See our Workshop page and then contact me if you're interested. I'm going to promote the workshop well advance so people have more time to prepare.