A couple of days ago this was posted on our bulletin board:
"Greetings Earth-builder Aficionados,
You'll be glad to hear that I have invented patent-pending technology to make prefab earth walls, which I sincerely believe will revolutionize our built environment from production to construction to operation. As I'm sure you all know, earth is the most eco-friendly building material, but earth building is very labor-intensive and thus, quite expensive in the Western World. But not for long, because my prefab earth walls are made by a machine; I significantly lower the production cost and because these walls are cured, lime-washed and/or waterproof, you can quickly and efficiently construct a building. In fact a small one-story house could be built in a couple of days. And guess what? I just did it. Check out my website: http://www.ecoearthwalz.com to learn more about my prefab earth walls and the world's first prefab earth shack. We are still prettying up the dirt shack and we are currently installing a dirt floor. See our blogs for further details. Last but not least, these prefab earth structures will also save big bucks on operating costs, as earth walls passively regulate temperature and humidity and they are mold-free. BTW, I purposefully made my technology to be low-energy and hope to power the entire operation with solar PV power. I don't think you can make a more eco-friendly product than this. I am looking to bring this product to market and expand operations. Please let me know if you have any interest. My email: infoATecoearthwalz.com"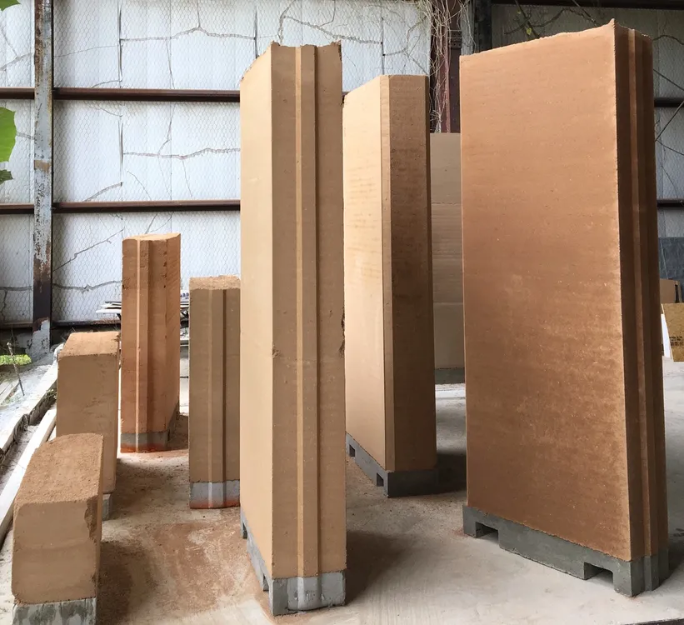 According the the website, "Ecoearthwalz prefab earth walls are made from natural dirt/earth (sub-soil) and mixed with a little water.  That's it! The mixed dirt/earth is fed into our newly invented automated technology to produce earth walls of almost any size and shape of up to 2 feet thick, 6.7 feet long and 10 feet high. Once suitable foundation and stem walls are in place at site, Ecoearthwalz prefab earth walls are delivered to site and installed." Furthermore, they say that, "Earth walls have excellent thermal mass which help to passively regulate internal temperature and humidity reducing use of mechanical heating and cooling – lowering utility bills!"
My reaction to this is not entirely positive. I applaud the use of natural soil for building structures, as can be done with rammed earth, cob, adobe, and earthbags. But unlike these simple methods, this concept requires significant machinery that is located somewhere other than the building site. Then, these massively heavy and fragile walls must be somehow trucked to the building site, unloaded and assembled using more heavy equipment. This can only be considered ecological if the manufacturing plant is very close to where the building will be placed. Otherwise the embodied energy would be significantly more than if the walls were created at the site.
I also question whether such large compressed earth walls without any stabilizer in the mix or internal reinforcement can be sufficiently robust to withstand the transport and assembly process.
One last observation is that while what is said about the thermal properties of earthen walls is true in terms of thermal mass, this does not generally equate to greater energy efficiency. This is only true in those rare climates where the extremes of heat and cold are minimal. Otherwise, a solid thermal mass wall will bleed energy much of the time, rendering the interior space either too cold or too hot. This can be mitigated by creating an insulating envelope around the outside of the building, then such heavy mass walls can contribute to great energy efficiency.
I am curious what other readers feel about all of this… please leave a comment.