This contemporary Australian home by Sustainable Building and Design, completed in 2020, showcases what is possible when sustainability is the goal. The clients wanted to create a comfortable, healthy, attractive home with a small carbon footprint and low maintenance requirements. The design takes full advantage of passive solar principles and minimizes the amount of energy required for heating or cooling. Rainwater recovery, indigenous landscaping and walking distance to shops and public transport help with its carbon footprint.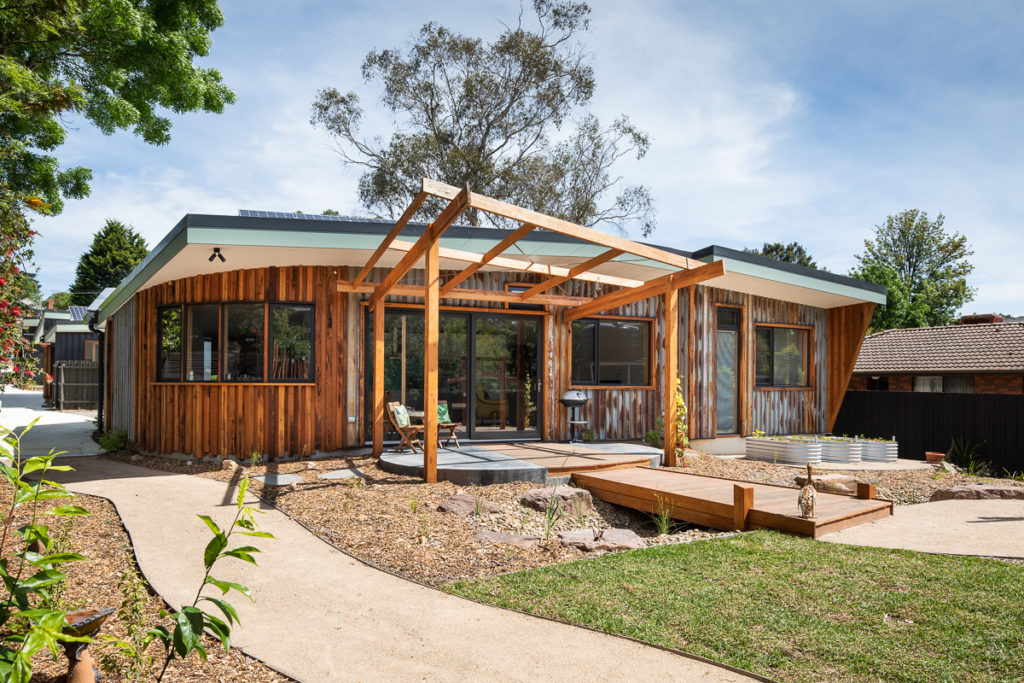 They were able to recycle and reuse the following in the home:
Hardwood reclaimed from dismantling the original house used for cladding, door frames, wall features and front door.
Messmate timber reclaimed from demolished Melbourne building used for bench tops and bathroom cabinets.
Reclaimed ash floorboards from demolished 1920's tram depot became bedroom flooring.
Recyclable steel used for cladding and kitchen bench top (with integrated double sink).
Reclaimed steel roofing from the original carport was reused as distinctive, low-maintenance cladding.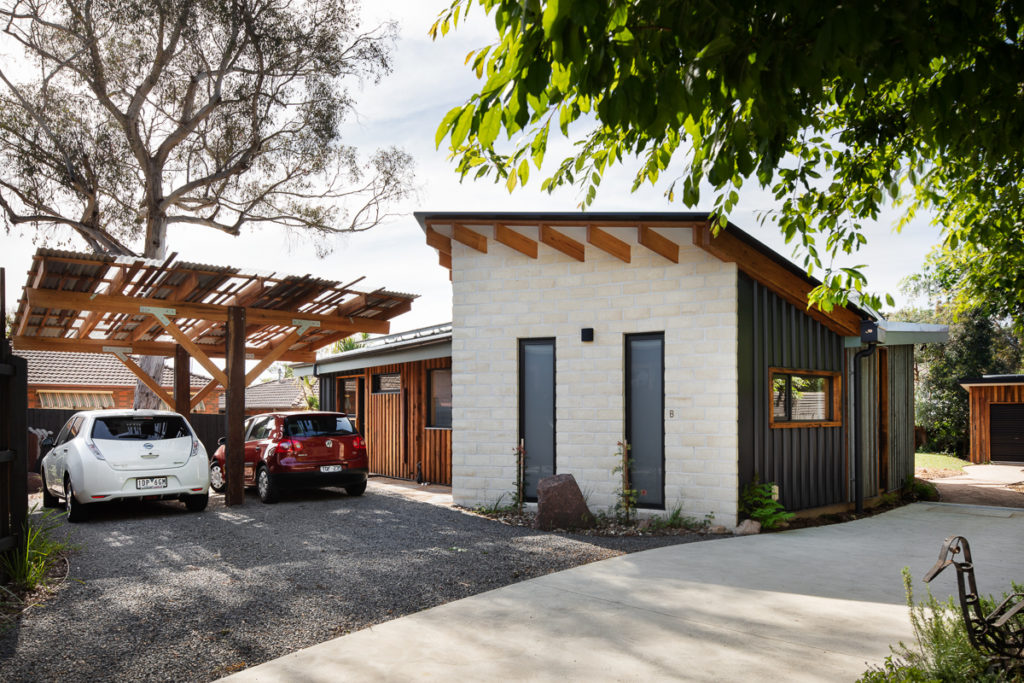 Thermal mass for the reverse brick veneer construction comes from Timbercrete blocks rather than energy intensive bricks. The builders are proud to say the house was constructed with sunlight. Their power tools were supplied with electricity from an off-grid solar power system.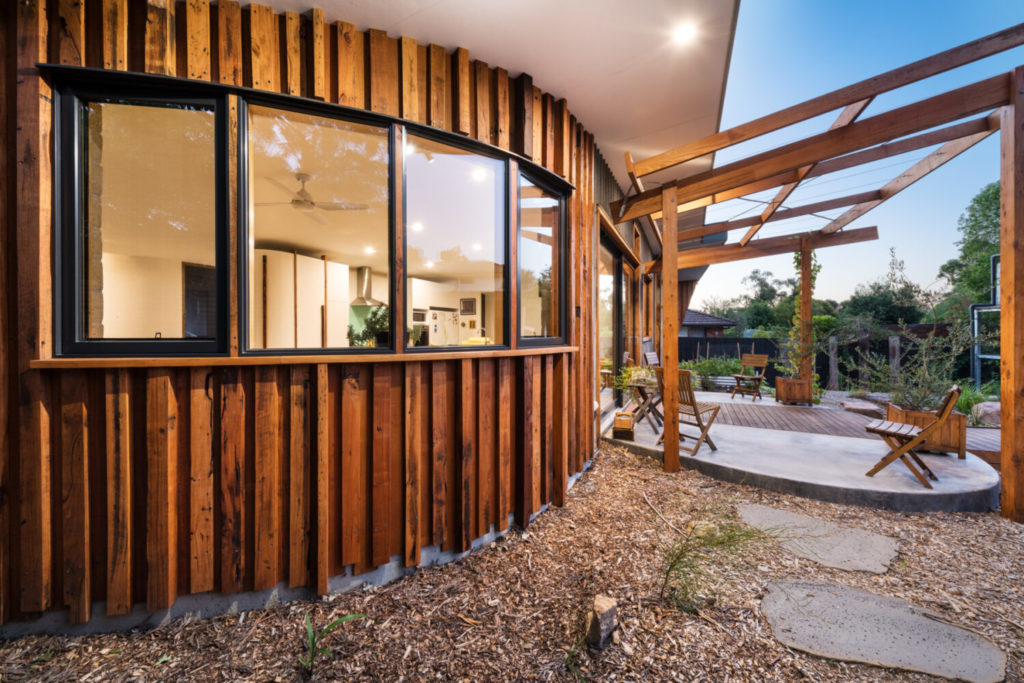 Highly efficient devices further reduce energy demand in the all-electric home. A reverse cycle air conditioner meets the minimal heating and cooling needs during extended periods of hot or cold days. Hot water is generated by another heat pump.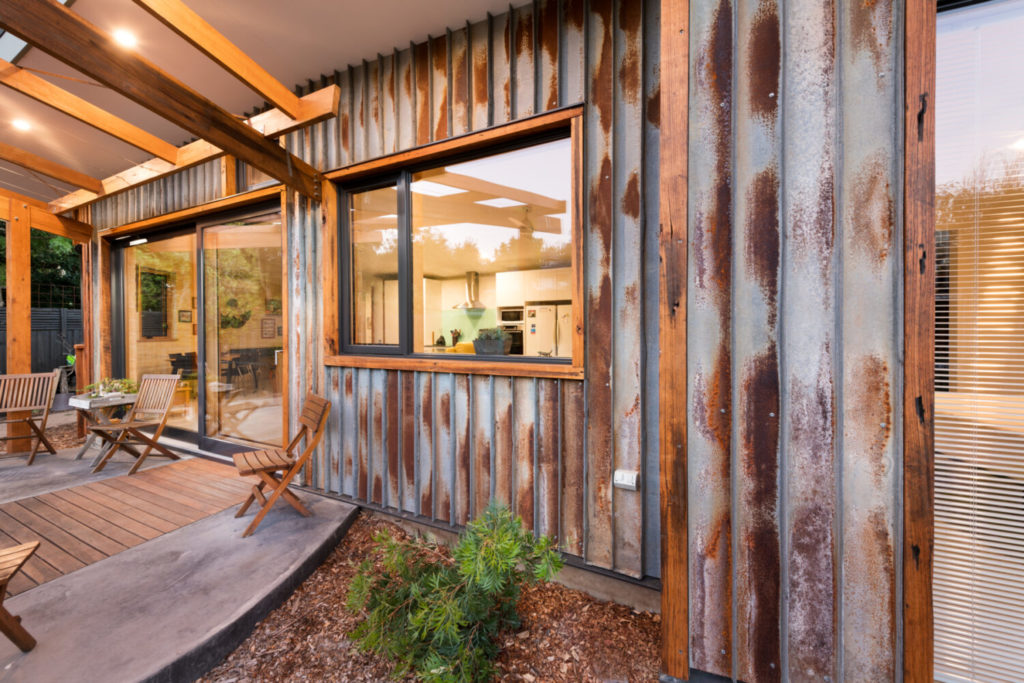 Most of the electricity required to live comfortably in this home comes from the 8 kW solar power system linked to a LG Chem 9.8 kWh battery. Any electricity shortfalls during the short, cloudy days of winter are met by importing GreenPower.
There is a short video about the home at www.youtube.com
You can read the original article at sustainablehouseday.com