This is the first time I have seen the use of earthen and natural insulation materials for 3D printing projects. As you can see from the video, the walls are not actually load bearing, since they rely on timber framing for that.
In September, WASP, or the World's Advanced Saving Project, debuted its new Crane construction 3D printer, in Italy. It's actually a modular 3D printing system, or "infinity 3D printer," with different configurations to choose from, and was presented to the public in Massa Lombarda, where the 3D printed village of Shamballa is being constructed. The program centers around an advanced, eco-sustainable model of construction, especially due to the lower cost and higher interior comfort the walls in the Gaia model provide with their combination of raw earth and natural waste as construction materials.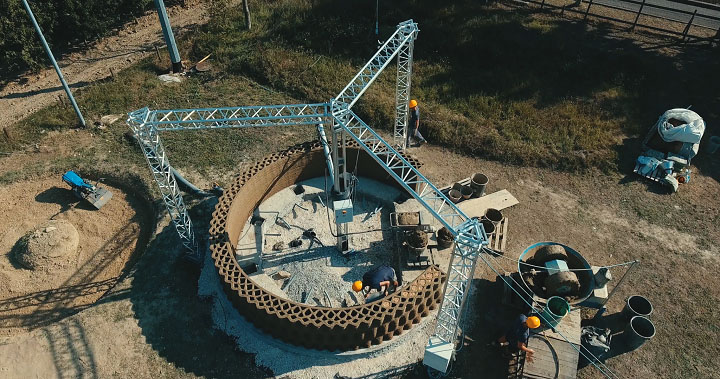 The project is based on six main macro-areas, starting with the promotion of human and material resources from the territory. This area features the capitalization of human knowledge, the use of renewable energy sources and materials found on site, the democratization of technology for the purposes of production, and using local manpower, rather than people with advanced training.
The second project area is sustainable construction processes with low environmental impact, including such items as lowering construction costs, CO2 emissions, the use of concrete, and transport operations, as well as using natural waste and better planning out the construction life cycle. Recycled materials, like natural waste from the agricultural chain and rubble, make up the third area, while the fourth is centered around the digitalization of the construction site through features such as digital data acquisition through 3D scanning, site monitoring, using on-site measuring to lower the amount of mistakes, and constantly defining the correct spatial coordinates.
Multi-purposes construction is the fifth project macro-area, which includes coordinating the use of multiple methods of digital fabrication like CNC technology, embedding supply facilities during initial construction rather than after, adding natural ventilation and thermal insulation right onto the walls, and using controlled material deposition to achieve high performance construction. Digital design is the final project area, and will focus on features including integrated design with BIM software, sharing digital contents available on the Internet, using a material optimization algorithm for construction, and making construction projects fully digital.
With this new project, WASP hopes to become a leader in the housing market, due also to its network of collaborators that will help to foster and share the project. The company knows that are some real opportunities in the future for green building, and also plans to develop a new eco-district in order to implement its "3D Printing for Sustainable Living" project goals and set up new constructive strategies that can be replicated in multiple environments.
See 3dprint.com for the original article.